The mini Labradoodle is a smaller version of the well-known standard doodle. Miniature Labradoodles are a designer dog with one Labrador Retriever parent and one Miniature Poodle parent.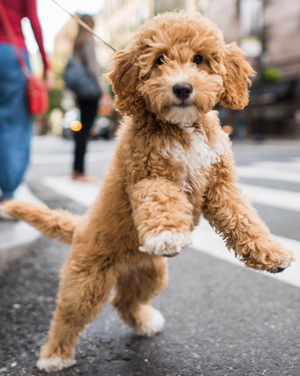 The miniature Labradoodle, often referred to as mini-doodles are becoming increasingly sought after by prospective owners. Due to their adorable personality and miniature sizing it is no surprise that there has been a spike in the miniature Labradoodle's popularity.
Miniature Doodles are believed to have first been bred in Australia in 1988, through the successful crossing of a Labrador and a miniature Poodle. Soon after these miniature versions of Labradoodles were introduced to the American population, where they became a hot talking topic.
The miniature doodles are similar in nature, have the same fur and coloring choices as their cousins; the standard Labradoodles. The only difference is their sizing.
What's to Love About the Miniature Doodle?
The question shouldn't be "What's to love about Miniature Labradoodles?"
The question should be "What isn't there to love about these fur babies?"
Below you can find a number of reasons why owners have fallen in love with the mini Labradoodle breed:
Each puppy within a miniature Labradoodle litter is different and unique. Some puppies may look similar to their Labrador parent, and you'll find others looking a spitting image of their Poodle parent. This means that there is a Labradoodle perfect for all Poodle and Labrador lovers, especially those who need an allergy friendly companion.
Read about more reasons why every dog lover should own a miniature Labradoodle here.
The Complete Guide to Miniature Labradoodles
While miniature Labradoodles are not a separate breed, there are a number of differences between them and the standard Labradoodles. Miniature (toy) Labradoodles fall into the smallest size bracket of the Labradoodle Breed.
The name miniature Labradoodle is often misleading to potential owners. This is because these dogs are not necessarily 'mini'. Often even when these dogs are the result of a pure bred Labrador and a pure bred Toy Poodle, the puppy takes on more of the Labrador traits including their size! You may find some Labradoodles are also mixed with a CockerSpaniel somewhere along the line to ensure the puppies are classed as 'small' dogs. Prior to purchasing a Labradoodle always ask questions to ensure the puppy is actually a mix between a Labrador and a Poodle.
If you are hoping for a smaller Labradoodle, try to purchase a second generation miniature Labradoodle. This is the result of two miniature Labradoodle being bred. This increases the chances of the puppy staying 'small'.
| | |
| --- | --- |
| Breed (Size Bracket): | Labradoodle – Miniature Labradoodle |
| Height at the Shoulders: | 12 – 16 inches (30-40cm) |
| Weight: | 13 – 26 Pounds (6-12kg) |
How Large will a Miniature Labradoodle Grow?
An adult Miniature Labradoodle will measure between 14-16 inches and will weigh between 16-25 pounds.
If you are hoping to purchase a miniature Labradoodle you may be wondering how big they will be once they reach adulthood. A miniature Labradoodle can measure between 14 to 16 inches (35-40 cm) at the shoulders and weigh in at approximately 16 to 25 pounds (7-11 kg).
In saying this the size of the miniature Labradoodle ultimately depends on their genes and which parent they take after. It is important to know that these dogs (while rarely) can reach 20 inches tall and weigh 65 pounds. This breed differs from puppy to puppy so always consider if a dog that can potentially grow this big will be the right fit for your family.
Purchasing a second or third generation miniature Labradoodle increases the likelihood of the puppy staying small when they reach adulthood.
What is the Life Expectancy of a Miniature Labradoodle?
You can expect your Miniature Labradoodle to live into their early to late teens. 
Miniature Labradoodles, similarly to Standard Labradoodles have an average lifespan of 12 to 15 years with many living into their late teens.
Due to the mix breed nature of this dog, it can often outlive it's full bred parents although in saying this, often inherits some of their medical concerns. While many miniature Labradoodles can live a healthy life, those that fall ill often have one of the following illnesses:
Hip / Elbow dysplasia (Inherited from the Labrador Parent)
Eye Disorders (Inherited from the Labrador and Poodle Parent)
Skin Problems (Inherited from the Poodle Parent)
Characteristics, Temperament and Hypo Allergenic Qualities of the Mini Doodle
Coat and Colors
Just like the standard Labradoodles, miniature Labradoodles can be found sporting a number of different coat textures and colors. Generally speaking the coat color of a miniature Labradoodle will be either one or a mixture of the following colors:
White
Black
Silver / Grey
Chocolate
Tan / Caramel
Apricot
Red
Mini Doodles that are a mixture or have special markings referred to as 'Parti' or 'Phantom' Labradoodles, often fetch a higher price. In terms of the coat texture, your Labradoodle can have a hair, fleece or wool coat. This means that they can be fluffy, curly or straight haired dogs. Often the coat type will not be evident until the dog is a few months old. If you are choosing a breed purely based on coat type and maintenance, the miniature Labradoodle may not be the best pick for you.
Allergy Friendly Qualities of the Mini Labradoodle
The miniature Labradoodle breed is considered to be a hypoallergenic dog. This is due to the fact that the Poodle breed is also hypoallergenic. If you are an allergy suffer, or have a family member who is, find out more information on why these dogs are classed as hypoallergenic here.
Temperament
Just like us humans, Labradoodles can differ in temperament from dog to dog. The reality is, the temperament of your dog is a direct result of their upbringing.
The miniature Labradoodle breed is known for being:
Playful, fun and silly
Friendly to all those welcomed into the home
Like the outdoors and need regular exercise
Energetic
Social
Loves to retrieve items
Affectionate and loyal
Labradoodles vary in personality and looks depending on which parent they take after. Labradoodles are quite intelligent dogs and with proper training they can almost do anything you ask of them! Their ability to learn makes them a great choice of companion dogs for those with disabilities such as autism and sight problems.
Cost of a Miniature Labradoodle
Miniature Labradoodles are often priced higher than Standard Labradoodles. A Mini Doodle is often priced between $1000 USD to $2000 USD. 
When purchasing your forever friend (a miniature Labradoodle) never attempt to cut costs. Purchasing from a reputable miniature Labradoodle breeder is the key to ensuring your puppy will live into adulthood with minor to no health issues. If a miniature Labradoodle seems 'too cheap' it most likely is. Breeders that are offering these designer dogs on the cheaper end of the scale may be cutting costs by not having the proper health testing completed.
If you are purchasing a miniature Labradoodle you can expect to pay anywhere from $1000 to $2500 (USD). While this may be slightly more than some other cross breeds, remember you are purchasing a furry friend who can potentially live into their late teens. This amount of money is a small price to pay to ensure you are purchasing a puppy from a reputable breeder.
Never purchase a miniature Labradoodle from a puppy farm. Genuine mini Labradoodle breeder should be able to supply you with paperwork stating the bloodlines of the puppy.
Miniature Labradoodles will require between one and a half to two cups of dry food a day. They will also require adequate bedding and exercise. Along with these expenses, don't forget to consider vet bills!
Where can I Purchase a Mini Labradoodle?
Only purchase a miniature Labradoodle from a recognized and responsible breeder. A responsible breeder will always:
Breed a maximum of two litters per female a year
Protect the health of both parents
Has provided initial health care including micro-chipping/vaccinations of puppy
Demonstrate knowledge of the Labradoodle breed
Does not re-home the puppy until at least 8-12 weeks of age
Suggests ways to feed, train and home the puppy
There are miniature Labradoodle breeders across the globe although finding a responsible breeder can be a little difficult.
Below you can find a number of miniature Labradoodles breeders located in Australia or the United States:
Famous Miniature Labradoodles

Interestingly enough, these dogs, in there mere couple of decade existence have appeared in many movies, reality television and even Monopoly! Some big name celebrities even own one.
In the 'Here and Now' version of Monopoly, the little Scottish Terrier was replaced with a miniature Labradoodle.
Labradoodles including miniature Labradoodles have now been accepted as dogs that can help those and be companions for those with visual impairments.
Reagan the Labradoodle, while not a miniature probably has a large pool of social media following where he shares daily pictures with his best friend.
Frankie the Labradoodle is known as the most famous dog in the Mid North Coast.
Jennifer Aniston owns a miniature Labradoodle.
Tiger Woods owns a mini Labradoodle.
Determining if a Miniature Labradoodle is the Right Fit for Your Family
You may be wondering now if a mini Labradoodle will be the right fit for your family. In short these dogs are miniature fluff balls with a lot of love to give. They generally suit all families who have enough time of their hands to ensure the Labradoodle is getting adequate exercise. If you have someone in the family who suffers from allergies, these dogs along with Poodles are the most suitable.
Prior to purchasing a miniature Labradoodle puppy always remember that dogs are a 20 year commitment and should never be gifted for Christmas or as a present. Always ensure you are making an educated decision when purchasing any breed of dog.
Before rushing ahead and purchasing a mini Labradoodle consider the following questions:
Do I have enough time to take my Labradoodle for walks/exercise?
Do I have enough money to provide my mini Doodle with food and proper bedding?
Are my family happy to welcome a dog into the home?
Can I afford to get my Labradoodle Groomed? Or do I have the time to brush my Labradoodle daily?
Do I spend enough time at home each week?
Is my yard big enough for a miniature Labradoodle?
If you decide that a miniature Labradoodle is the right choice for your family, we wish you all the best. These are beautiful natured dogs that are perfect for families.