If you are looking to welcome a Labradoodle into your family, you may be wondering about their expected lifespan. Lifespan refers to the total number of years your fury friend will live for.
You Can Expect Your Labradoodle to Live up to 15 Years of Age!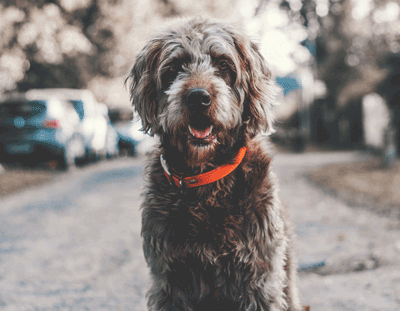 The good news is, Labradoodles have a relatively long lifespan compared to other dog breeds. On average, you can expect your Labradoodle to live anywhere from 10 to 15 years of age. This is only a guide and many dogs from this breed live well into their late teens. 
Like all dog owners, you'd hope to give your Labradoodle the best and longest life possible. Labradoodles can have an extended lifespan if they are provided with a nutritious diet, the ability to exercise regularly and do not become involved in an accident or injury. The genetics of the dog can also play a part in their lifespan. While this is not something you can control, in some circumstances preventative measures can be put in place.
If you purchase your Labradoodle as a puppy from a reputable breeder you can request a report of the parents genetics. This can give you an idea of how likely your puppy is to inherit certain undesirable genetics.
A Labradoodle's Lifespan
If you haven't already heard, mix bred dogs on an average, out live pure bred dogs. This is in fact true for the Labradoodle breed. A mix of a Poodle parent and a Labrador parent. Due to Labradoodles being a hybrid dog, they are less prone to inheriting either of their parents genetic diseases.
Your Labradoodles, Labrador parent has a lifespan of 12 years while their Poodle parent has a lifespan of 16 years. Labradoodles generally outlive their Labrador parent.
Labradoodle Specific Health Concerns
The Labradoodle breed is prone to a number of health issues that are inherited from both of their parents. While some Labradoodles can live a healthy life free of disease and genetic health issues, other dogs are less fortunate.
Common aliments for the Labradoodle breed include (although are not limited to) the following:
Skin Disease
Hip Dysplasia
Epilepsy
Progressive Retinal Atrophy
Addison's Disease
Labradoodle Hip Problems
Hip dysplasia is a genetic problem which a Labradoodle can inherit from either one of their parents. This genetic issues means that the hip is loose and allows the leg to move and in turn can cause damage and inflammation. This genetic condition is common in the dogs later years although in some rarer cases can begin as a puppy. Labradoodles with this condition can find it hard to climb up stairs or out of a dog bed.
Labradoodle Epilepsy
Epilepsy can affect any dog of any breed. Short seizures will often not affect the lifespan of your dog although those longer seizures can cause brain damage or organ failure. Dogs who suffer epilepsy will need to be medicated.
Labradoodle Von Willebrand's Disease
This disease prevents a Labradoodle's blood from clotting. This disease is not an issue unless your dog becomes injured. The Poodle and Labrador breeds are among the most affected by this disease meaning that the mix of both these breeds is affected.
Addison's Disease
Addison's disease results in the Labradoodle failing to create an important hormone called ACTH. This hormone creates a steroid that is needed for the dog to function correctly. A dog suffering from Addison's disease can become more stressed and will not be able to digest food correctly. A vet can determine if your Labradoodle has this disease from a young age. If left untreated, your dogs lifespan can decrease dramatically.
How do I Ensure my Labradoodle Puppy Lives a Long Life
Unfortunately your Labradoodle will not live forever. Just like us humans, with age we deteriorate. While you can never fully ensure that your Labradoodle will live their maximum life expectancy, there are a number of things you can do to ensure you dog lives as long as possible.
In short, Labradors are prone to bone diseases and eye problems. Each of these should be genetically tested to ensure your puppy will not suffer from hip dysplasia or progressive retinal atrophy that can lead to the dog becoming blind. Poodles are less prone to specific disease although can also suffer from hip dysplasia. Before you fall in love with a specific Labradoodle puppy do your due diligence and ask for their genetic health records. This will ensure that you do not choose a puppy that will eventually fall ill to a genetic disease.
Taking your Labradoodle for regular checkups, providing them with nutritious food on a daily basis and grooming him or her weekly, will ensure you dog lives their longest and healthiest life. Preventative care is the best way to ensure your dog lives a long and disease free life.