The Labradoodle breed is thought to have began in 1988 in Australia. Since then, the demand for this breed has led to their appearance all over the world. Ranging from light cream to dark black in color, there is a Labradoodle that will appeal to every future owner.
Due to Labradoodles being a mix breed dog, one parent being a Labrador and the other a Poodle, each new puppy varies in color, size and personality. Although a puppy may be born with a specific coloring one can never be certain that his coat will remain the same color into adulthood. Due to the outdoor lifestyle that these dogs love, sun bleaching of a Labradoodle's coat over time is common.
The colors produced by one blood line of Labradoodles does not mean that these can be produced by all Labradoodles. Each color variation is a result of genetics. In this article you will find a variety of different Labradoodle colors.

Color Variations of the Labradoodle Breed
Black
Cream
Gold/Apricot/Caramel
Chalk White
Chocolate
Blue/Brown
Parchment
Parti Color
Phantom
Abstract
Red
Most Common Labradoodle Colors
The most common Labradoodle colors are black, cream and gold.
#1 Coat Color: Black
Nose Pigment Color: Black
Black Labradoodles should be fully black with no other colors apparent. Black Labradoodles are common finding generally one per litter. These Labradoodles represent the base price for a dog within this breed.
Black Labradoodle Puppy and Adult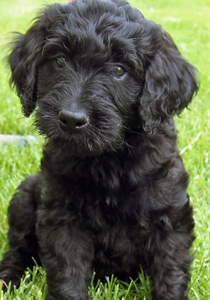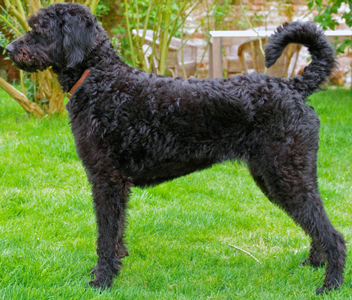 #2 Coat Color: Cream
Nose Pigment Color: Rose / Black
Cream Labradoodles are slightly darker than those who are classified as 'white'. The color of a cream Labradoodle can vary between different shades with some having red tinges through their coat. Although the color cream may vary the whole coat should be one consistent color. A Labradoodle with cream fur and a brown nose is sometimes referred to as a 'caramel cream'.
Cream Labradoodle Puppy and Adult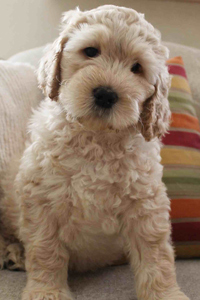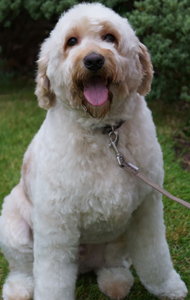 #3 Coat Color: Golden/Cream/Caramel
Nose Pigment Color: Black
These Labradoodles are slightly darker than a cream Labradoodle, although lighter than the highly prized red Labradoodles. Some may refer to this color as 'apricot'. Apricot Labradoodles are often born with lighter colored coats that darken over time while others that are born apricot in color develop to have a light cream coat. The entire strand of fur on a golden Labradoodle should be the same color. Golden Labradoodles often fade as they grow.
Golden Labradoodle Puppies and Adult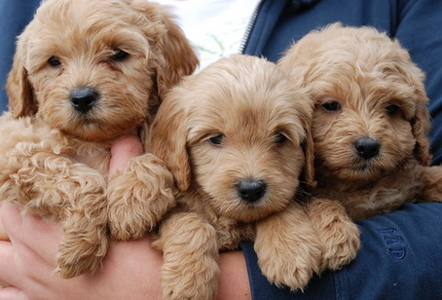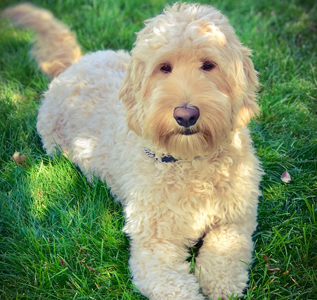 General Labradoodle Colors
The following section outlines general Labradoodle colors. These dogs are neither common or rare.
#4 Coat Color: Chalk White
Nose Pigment Color: Rose / Black
A chalk white Labradoodle should appear darker than a natural white color when directly compared. These Labradoodles should hold their color until adulthood.
Chalk White Labradoodle Puppy and Adult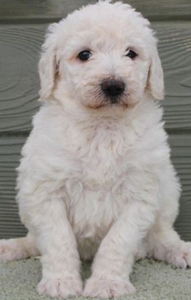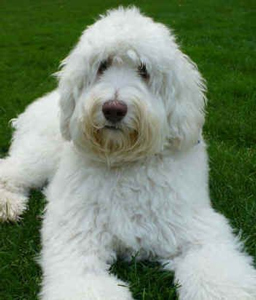 #5 Coat Color: Chocolate
Nose Pigment Color: Rose
A true chocolate Labradoodle will have a consistent coat even when parted at the root. The chocolate colored Labradoodles tend to be a popular choice. Their coloring should be even. Chocolate Labradoodles often appear almost black at birth.
Chocolate Labradoodle Puppy and Adult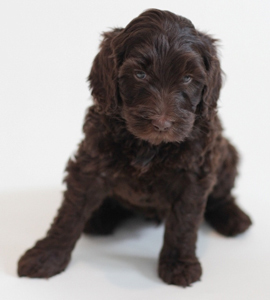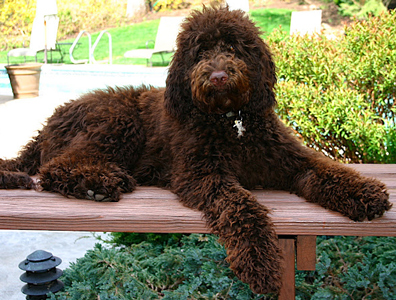 #6 Coat Color: Blue/Brown
Nose Pigment Color: Black
These Labradoodles are similar to a black Labradoodle although appear to have a silver tone when the light hits their fur. As they mature their fur lightens to a blue/grey color. A blue/brown Labradoodle with blue eyes is rare.
Blue Labradoodle Puppy and Adult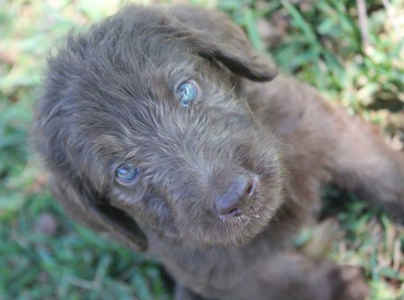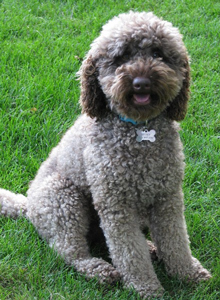 #7 Coat Color: Parchment
Nose Pigment Color: Rose/Brown
A parchment Labradoodle has a similar colored coat to a very weak coffee. A parchment should not have other colors mixed into the fur. For a Labradoodle to be considered of parchment color, the dogs nose must be red/brown in color.
Parchment Labradoodle Puppy and Adult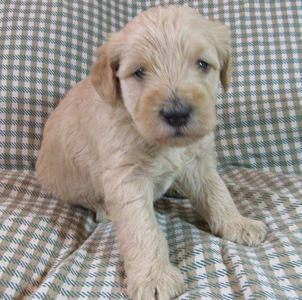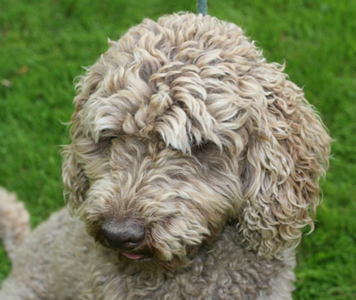 #8 Coat Color: Parti Color
Nose Pigment Color: Any color / Similar Color to that of the Blotches
Often referred to as 'Parti Labradoodles' these dogs have large blotches of color on white. Red blotches and chocolate blotches on white are common for 'Parti Labradoodles'. Large blotches of any color on white make for an acceptable Parti colored Labradoodle.
Parti Color Labradoodle Puppy and Adult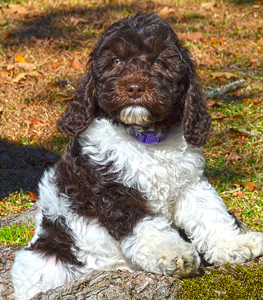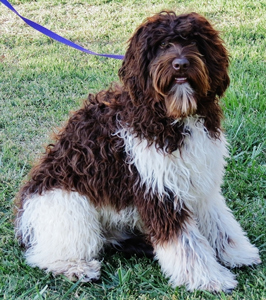 Rare Labradoodle Colors
Beneath you'll find three different Labradoodle coats that are considered 'rare'. The hardest to breed and come by is the red Labradoodle.
#9 Coat Color: Phantom
Nose Pigment Color: Rose / Black / Should Follow Base Fur Color 
A phantom Labradoodle is one that displays sharply defined markings of a second color above their eyes, the sides of their muzzle, their chest and chin. Any combination of two colors is acceptable as long as they have the distinctive markings. A black and gold phantom is among the most common. These dogs are on the rarer spectrum.
Phantom Labradoodle Puppy and Adult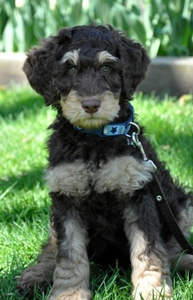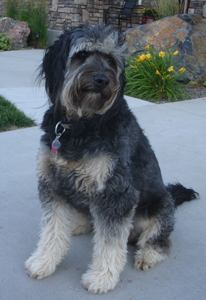 #10 Coat Color: Abstract
Nose Pigment Color: Rosy / Black / Should Follow Solid Base Color
Abstract Labradoodles have a coat that is a mixture of different colors. To hold the abstract title, the dog's coat must be less than 50% white. These Dogs are on the rarer spectrum.
Abstract Labradoodle Puppy and Adult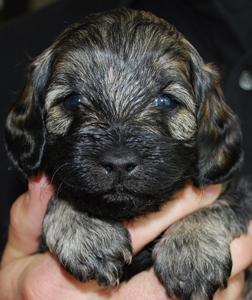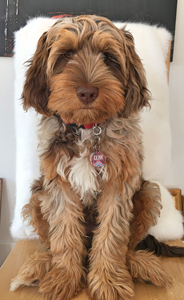 #11 Coat Color: Red
Nose Pigment Color: Black
Red is thought to be one of the rarest Labradoodle coat colors. While gold is a common color, the birth of a Labradoodle with a deep red coloring is as rare as they come. A red Poodle is unusual making a red Labradoodle even harder to come by. A true red Labradoodle's coat should replicate that of an Irish Settler dog. The roots of a red Labradoodle should match the tips. The nose pigment color must be black to be considered a true 'red' Labradoodle. True 'reds' are often more expensive in comparison to other Labradoodle colors. Red Labradoodles are hard to breed and even harder to come by.
Red Labradoodle Puppy and Adult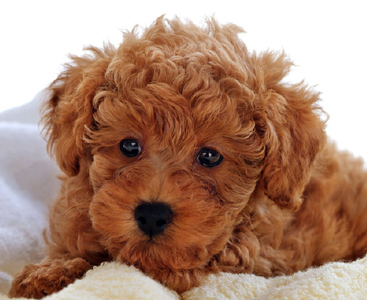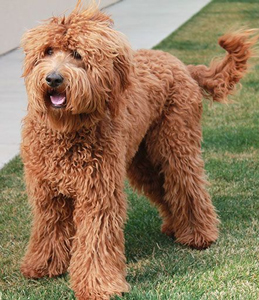 The range of Labradoodle coat colors is extensive although no matter which puppy you pick, Labradoodles make loving life long friends.