There is a gorgeous labradoodle coat that looks very reminiscent of its labrador heritage. Referred to as either a Straight Hair Coat, Flat or Slick Coat, or even as the Labrador Retriever Coat. This coat doesn't usually have the same wavy and curly fur growths found in other labradoodle coats.
What is a Straight Hair Labradoodle?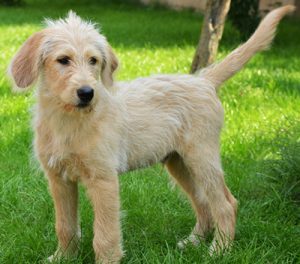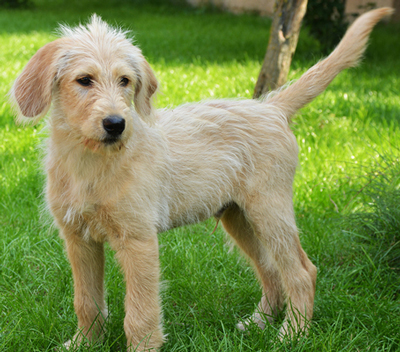 Mostly found in 89% of first generation labradoodles (F1's – where the labradoodle is 50% labrador and 50% poodle), and second generations (F2's – where both parents are F1's), straight hair coat labradoodles have a similar coat to a labrador. Some may have a scruffy look where tufts of hair sprout out of their body, while also having a short wavy or curly fur undercoat covering their body.
Other straight hairs are completely covered in medium-long fur, that grows consistently all over their face and body. Their coats can range from straight to wavy hair, similar to a labrador. They can also be slick and glossy, or flat and matte, with feathering along the tails, and around the legs and face.
Typically a straight coat will vary in length and thickness, with no two dogs from the same litter being guaranteed to have the same type of fur growth. As puppies, straight hair coats will not begin to grow out their hair until they are eight weeks old. By the time they are 12 weeks old, it will be clear as to what sort of coat the puppies will have.
Do All Labradoodles have Curly Hair/Fur?
No, not all labradoodles have curly fur. As a matter of fact some labradoodles can have both straight hair and wavy fur coats that they've inherited from their parents.


Do Straight Hair Coats have Hair or Fur?
They have both fur and hair actually. You may have noticed that I have been freely switching between the two during my explanations. This is because hair and fur are the same thing. The reason that the term "hair" is used to describe Straight Hair Coats, and "fur" is used to describe the other two coat types – Fleece and Wool. Is because of the way that the straight hair coat's texture, feels very similar to our own hair.
Can Straight Hair Coats be Shaved?

Typically the answer will be no. If you live in a hot country, then during the summer times, it might be worth considering to give them a trim. Not a shave! Just a light trim to help stop their bodies from over heating.
The fur coat, actually protects their skin from sun burn, and helps to prevent it from drying out, which can cause skin conditions.
Clean up the hair around the dogs face, in particular around the eyes, if it has bushy eyebrows, and around the muzzle. It is best to look at reducing the length of the fur in areas that can could cause health problems or discomfort, if the fur was to become clumped up and mattered.
How to Best Control Shedding?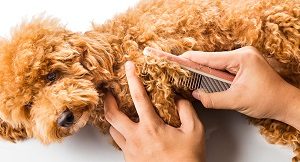 Straight haired labradoodles shed a lot more than any other labradoodles. As tempting as it may be to shave your furry companion to help counter shedding. It nonetheless remains inadvisable and should be avoided. Your dog is going to shed and it can't be avoided.
It can be lessened however. Just as we humans shed hair, so will a healthy and happy dog. Throughout the year, your pooch will continue to shed hair, more so as the weather warms up and their winter coat falls out.
To counter this, get in the habit of giving your dog regular grooming. A little bit of brushing can go a long way. It removes loose hair, and helps to re-affirm the bond between you and your dog, as they enjoy the attention and can even find the grooming to be relaxing.
Bathing your dog should be kept to a minimum as the shampoos and warm water can lead to dry skin and other skin conditions. Instead take your dog for swims or use lukewarm water to rinse off their coats. This type of "passive" bathing will help to wash away any loose hair, without stripping their coats of much needed essential oils.
The most important thing to remember is to keep your dog in a comfortable environment, as stress can cause a dog to shed even more. Also make sure that they maintain a healthy diet with high quality food, rich in omega 3's and fatty acids. A good diet helps to promote stronger hair follicles and a shinny coat, that can help reduce shedding.
What Causes Allergies from Straight Haired Labradoodle?
Some owners later discover that they are allergic to straight haired labradoodles. While it may be tempting to shave off their fur, in an attempt to eliminate the allergic reactions. This should never be done!
Allergies are not triggered by dog fur. They are caused by pet dander – skin particles that are shed by the dog all year long. By shaving the fur off, the owner is actually making things worse for themselves. It drys the skin out, removing moisture and causes rashes to develop. As a result more skin is shed, exposing the pet owner to more dander. As more skin conditions develop or worsen, the dog will start scratching releasing even more dander into the air.
How Often Should a Dog be Bathed?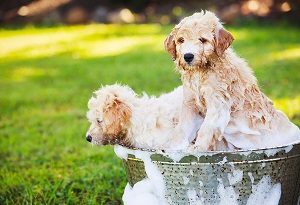 Bathing your dog can be effected by many different factors and can be very situational. You may need to bath them more frequently for medical reasons, or because of what they have decided to roll in.
Generally speaking, bathing your labradoodle should be more infrequent. Over bathing your dog can strip its fur of natural oils that help to protect their skin and strengthen their hair.
Ideally, you should limit proper bathes to when they start to smell a little, or if you need to remove matter from their fur.
If they are just dirty with dust and mud, use lukewarm water or a running hose to wash away the dirt. Alternatively encourage them to swim in a body of water (such as a river or at the beach) while under your supervision. As a precautionary measure you can get a life jacket for your labradoodle.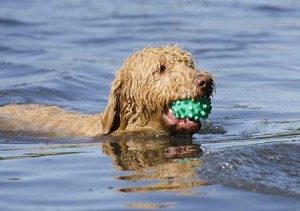 When you do need to give them a proper bath, use a mild oatmeal or coconut based dog shampoo. It will strip away some of the oils from their coat, but these types of shampoos will help to keep the skin moisturized.
Over bathing can lead to skin irritations that can be itchy and uncomfortable. Dogs do not need to have baths as much as humans need to.
How to Watch Out for Skin Conditions
If your Labradoodle has any skin conditions, this could cause them to shed more fur, or even release more dander into the air. They may show signs of a skin condition by excessive scratching or nipping and licking at the same area. Even if they don't present any behavioral changes, during their weekly grooming, check their skin for the following symptoms:
Dry, Flaky Skin or "Dandruff"
Red or Inflamed
Missing Hair or "Patches"
Torn or Scratched Skin
If the skin shows any of these symptoms, it would be best to consult your vet or a pet care expert. Remember mites and parasites can cause just as much damage to the skin as over-bathing.
Are Straight Hair Labradoodles For You?
If you are wondering if the straight hair coats are the sort of labradoodles for you, please consider the following points:
Their coats require the lowest level of maintenance.
They do shed a lot more then other coats.
They look more like labradors, than poodles.
They may not be suitable for people with dog allergies.
No two straight hairs will have the same coat.