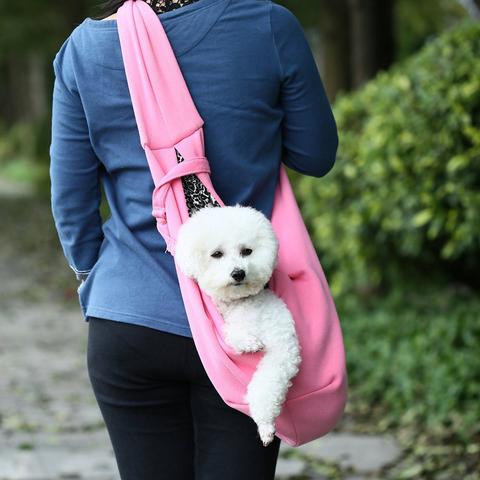 Owning a small or toy sized dog can be every appealing for many people. Unlike a medium sized or larger dog, these tiny pooches can easily be included with your day to day activities, and be physically handled. This is where Dog Sling Carriers come in handy, as they allow you to comfortably bring your dog out with you.
If you are looking for a comfortable and stylish carrier to bring your little pal out with you, then you are in the right place. They can keep your dog in a safe a secure place when they leave the house with you, and if your dog is tuckered out, or recovering from an injury, you can still include them in your daily outings. If you are interested in more luxurious Dog Carrier Purses and accessories, please read out article on Designer Brands and Luxury Accessories.
What are the Benefits of a Dog Sling Carrier?
Not all dogs are comfortable with being placed inside a Dog Carrier Backpack. This could be due to them suffering from a form of canine claustrophobia. Simply put, they may get stressed out from being confined inside a backpack carrier.
Holding a nervous or shy dog close to your chest, is a good way to try and keep them calm, and to help them feel more secure. Not only will this provide your small dog or puppy a nice place to take a nap while you go about your day, it can also help to build a stronger bond between yourself and your new puppy.
Most dogs like to stick their heads out of the car window and take in the sights and smells around them. Your pooch may also enjoy doing this in a sling carrier, as they are able to stick their heads out and look at their surroundings, something that most backpack carriers can prevent.
Another benefit to using a sling carrier, is that they can come in a large variety of styles and designs, potentially allowing you to make your own fashion statement.
---
Picking the Best Sling Carrier for You
Before you can pick a style you like, you need to make sure that the sling is the right size for your dog. Always check the weight limit of each sling, this is highly important to ensure your pets safety by only using a sling that can support your pet's weight.
#1 Choosing a Sling That is Comfortable to Carry
While it is important to find a sling that fits your dog perfectly, it is just as equally important to find a sling that conforms to your body, and is comfortable for you to carry. Not all slings require you to only carry your dog across your front. Some slings are designed to be carried either at the front, back or to the side. Some slings are even designed to be used in multiple positions, and may even have adjustable straps. So make sure to choose a sling that suits your body type and your own limitations as well.
#2 Finding the Right Sized Sling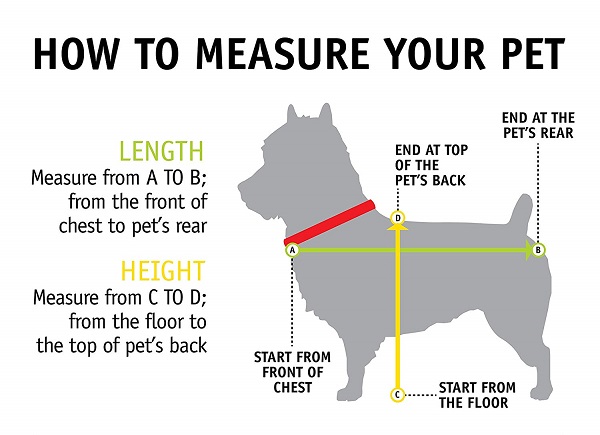 If the sling is too large, your dog may find themselves being swallowed up by it. Your dog needs to be snugly yet comfortably supported by the sling. If your dog is unable to lift its head up out of the sling to see the world around them, they may become stressed and fidgety. Think of an over sized sling as being a blanket that only covers your dog, instead of supporting them.
Like wise with an undersized sling, if your dog is too big to fit inside the sling, then they may fall out easily due to the lack of support. Not to mention that an undersized sling can cause them harm or be overly restrictive
#3 Is the Sling Made from Comfortable Materials?
Try to find a sling that is made using materials suitable for your environment and your dogs coat. Cotton and fleece are two of the most popular and comfortable choices for slings, they are breathable and help to prevent your dog from over heating. Polyester is another cozy fabric to consider, it can help to retain heat and provides some level of water resistance.
By considering the weather conditions and the environment in which you live, it can help you to determine what type of sling you should consider. If the sling is made from a thick fabric, and your dog has a thick coat, you may find that the sling could cause them to over heat, especially in summer. By using a sling made of a light breathable fabric in summer, this could help to prevent your dog from over heating. Think of it this way, if your dog doesn't require a winter sweater in the colder months, then thicker materials could retain too much heat.
On the other hand, if you live in an area that gets very cold winters, or even snows, and your dog has little to no fur to keep themselves warm, then you may need to consider using a sling that retains warmth. Thicker materials, less breathable polyesters, or even insulated slings may be worth considering.
#4 Does it Have Zippers, Buckles, or Latches?
You should avoid using zipper closures for long-haired dogs. Their fur can easily get snagged in the zipper tracks as it closes. Not only can this cause problems closing the sling, it can also cause undue pain and discomfort for your dog, which may result in them being afraid of using the sling.
With that in mind, using a sling that offers a way to seal your dog in, actually helps to prevent them from jumping out. One of the biggest differences between a sling carrier and a backpack carrier, is that there is usually a hole/opening left for the dog to stick their head out of. The hole tends to be big enough for them to poke up out of, but not big enough so as to allow them to jump out.
Instead of using zippers, some slings make use of Velcro, buttons, snaps and straps. This can be a good alternative if there is a risk of injuring your dog with a zipper or in many cases, adjusting the size or location of the opening for you dog to look out of.

#5 Is There a Collar Clip?
Also known as collar and lead anchors or tethers, they are a way to ensure that your dog will be less likely to jump out of the sling. While the name implies that it is a way to secure the sling to the dogs collar, it would be advisable to attach the clip to a harness instead. The risk of the dog jumping out of a sling is much higher then that of a backpack carrier, for this reason there is less risk of neck injuries occurring if the anchor is attached to a body harness as apposed to the collar around the neck.
#6 Is it Easy to Clean?
Sling carriers that have a firm or ridged base, may come with a comfort pad. These pads not only help to make your dog comfortable and give them something to sleep on, they also help to keep the sling clean. Most of these pads are removable and washable, so in the event of any little accidents, the sling can be easily cleaned.
Other slings can be washed as is, some may require a more hands on cleaning method. So look over the cleaning instructions to see if the sling is right for you.
---
9 Fashionable Puppy Sling Carriers
1) WOpet – Dog Carrier Purse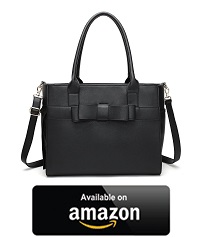 Made from PU leather
Will not fade, or distort
Lightweight, and washable
Its design is perfect for everyday use
Breathable mesh helps to keep your dog cool and comfortable
Ideal for small dogs up to 14 lbs
2) Twopages – Dog Carrier Purse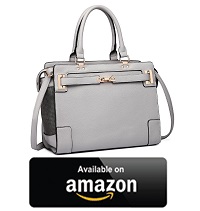 Sturdy hard-sided construction with comfortable soft-padded interior
Offers a cozy and perfect place for your dog to rest
A fixed leash inside helps to keep your dog from jumping out
Ideal for toy dogs up to 8 lbs.
Made from comfortable, smooth PU leather
Waterproof material inside helps to keep your bag dry and clean
Both sides have a mesh, providing your dog with fresh airflow
Conforms to most airlines for under-seat storage
3) PetsHome – Dog Carrier Purse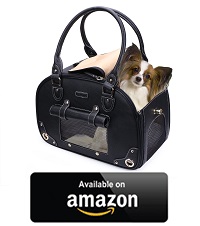 Available in 15 colors
Comes in two sizes
Premium PU leather exterior makes it easy to clean
Waterproof material inside helps to keep your bag dry and clean
Sturdy hard-sided construction and comfortable soft-padded interior
An internal tether leash helps to secure your dog inside the bag
Full length zip opening on the top and three rows of fastenings, gives you three options for the opening size
Two sided mesh lets the fresh air in and out
Detachable and collapsible design saves space and is easy to carry
4) Zoostar – Dog Carrier Purse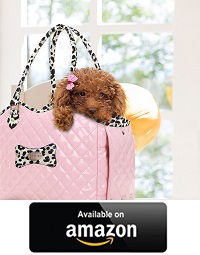 Available in two colors
Designed to help prevent your dog from jumping out of the purse without your help
There is an elastic hook strap to connect to dog's collar or harness
Double soft side walls and a plush bottom gives your dog a warm place to rest
This dog carrier is suitable for small dog less than 10lbs
Handles are soft and sturdy
The zippers can be glided easily and won't get stuck
Velcro secures the pad is secured to keep your pet from sliding around
This purse is lightweight and can be buckled in your car for safe traveling
Can be folded up for easy storage
The outside material of this dog purse is waterproof
Can be wiped clean
The inside pads are removable
5) Betop House – Pet Carrier Tote Bag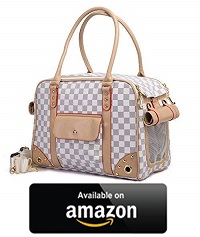 Available in two colors
Comes in two sizes
Made of high quality synthetic leather
Lightweight, and washable
Zipper runs the full length of the bag for ease of access
A snap button pocket at the front, and a zipper pocket at the back for extra storage
Removable base at the bottom for easy cleaning
The shoulder strap is detachable and adjustable
Mesh in the middle offers a good amount of airflow
6) Hubulk – Dog Carrier Tote Bag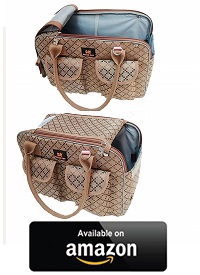 Available in two colors
Comes in two sizes
The small size is good for dogs up to 9 lbs
The medium size is good for dogs up to 13 lbs
Top zippered opens with a mesh window for easy access, ventilation and visibility
Six ventilation holes and four feet under the bag offers good air circulation
Four front and back pocketsoffer additional storage
Adjustable shoulder strap
Made from durable high quality Oxford cloth
Easy to clean.
Removable padded cushion
Comes with an anti escape safety leash
7) MG Collection – Dog Carrier Tote Bag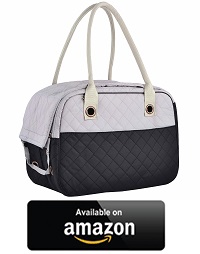 Available in 3 color pallets
Soft-sided dog carrier that features a classic quilted 2-tone design
External material is easy-to-clean
The top of the bag features a plastic mesh flap that can be covered for extra security or used alone additional ventilation
8 grommet-reinforced ventilation holes provide adequate airflow
2 parallel zippers on the top mesh flap make it easy for you to lower your pet into the bag and close it quickly to secure your pet inside
2 soft yet sturdy top handles allow you to carry this dog in comfort
4 hard studs on the bottom help keep the carrier sturdy and away from unwanted dirt
2 large, Velcro-secured pockets offer additional storage
8) WOpet – Dog Carrier Handbag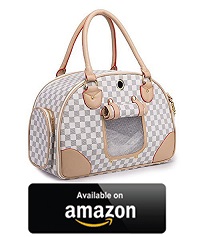 High quality pet bag with imitation leather
Will not fade, or deform
Plenty of good airflow, and is light.
Easy to wash, fast drying, and a soft feel
9) Betop House – Dog Carrier Handbag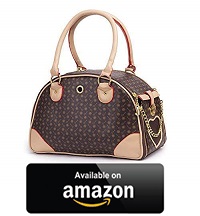 Available in two colors
Comes in two sizes
Made of high quality synthetic leather
Is fade resistant, with no distortion
Lightweight, washable and soft material
Breathable mesh in the middle, provides your dog with airflow
The mesh can provide privacy by allowing the dog to see out, but people cannot see Inside
Full length zipper seals the bag closed
There are pockets on the side for extra storage
Removable plate at the bottom, makes cleaning easy
---
10 Casual Puppy Sling Carriers
1) Yudodo – Pet Carrier Sling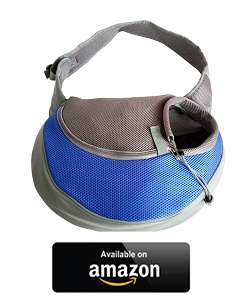 Available in three colors
Comes in two sizes
The adjustable strap measures 33-45 inches long
The small size is suitable for toy dogs that way 4 lbs or less
The medium size is ideal for dogs that weight as much as 10 lbs
Made of leather and mesh, soft, breathable and durable
Super wide padded shoulder strap and sturdy hook, easy to adjust, safe and comfortable for your little dog to stay in
2) Pupteck – Dog Carrier Shoulder Bag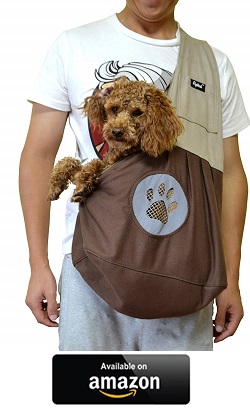 Available in three colors
Ideal for small dogs below 9 lbs
Made from 100% cotton fabric, and soft to the touch
Padded shoulder design provides a great deal of comfort
Air mesh design makes the sling breathable
The cute reflective paw pattern adds a level of safety in the dark
There is a clip inside to tether to the dog
The bottom cushion is removable and machine washing
3) Alfie – Chico Reversible Pet Sling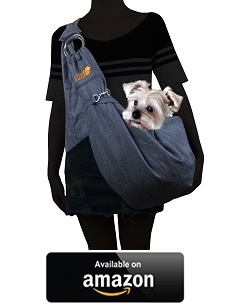 Available in 12 colors
Can support dogs that are up to 12 lbs
Features adjustable shoulder strap and safety collar hook for extra security
Perfect combination of convenience and style
Perfect for everyday walks and weekend adventures
Machine washable
4) Tomkas – Small Dog Carrier Sling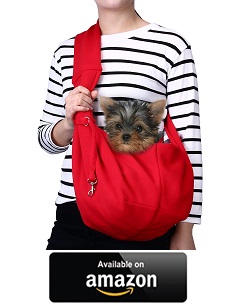 Available in ten colors
This bag is made of machine washable and breathable soft fabric
The material is thick enough to ensure softness and support for your dog
Easy to use, and easy to adjust
A security lock allows you to tether the sling to your dog's collar or harness
The belt can be moved to change the size of the opening
Reversible with a zipper pocket
Able to support dogs that weigh between 3 and 10 Ibs
5) iPrimio – Dog Carrier Sling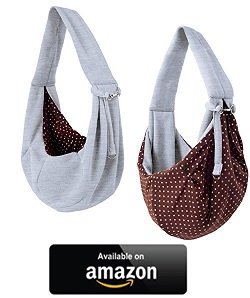 Available in five colors
The sling is 20″ Wide by 14″ Deep and the shoulder strap is 26″ long
Uses a security clasp to prevent your dog from jumping out.
Easily supports up to 12 lbs
Offers an easy way to transport your small breed of dog around
Made with a premium breathable material that is easily washed
6) FurryFido – Reversible Pet Sling Carrier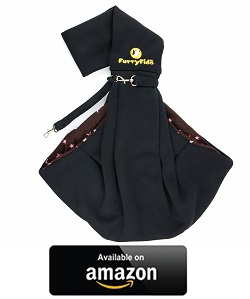 Available in three colors
This dog carrier sling holds your pet with easily
It features a safety collar hook to ensure your pet is safe and secure
With a reversible design, this dog carrier sling looks great inside and out
Thanks to the soft cotton cloth material, this sling style bag will keep you and your pet relaxed and comfortable throughout the day
Can be put through the cold wash cycle in your washing machine.
7) Bro'Bear – Reversible Dog Carrier Sling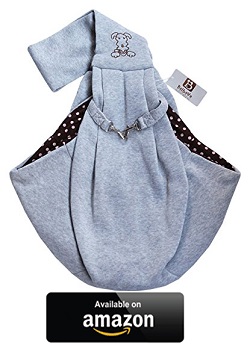 Machine washable soft Cotton fabric and Polyester
This reversible and hands-free sling-style carrier loops over shoulder while your dog rests in the pouch on the opposite hip to keep pet secure and comfortable
External security clasp helps to prevents the dog from jumping out
Supports up to 12 lbs
Ideal for everyday walks and weekend adventures
8) Timetuu – Dog Sling Carrier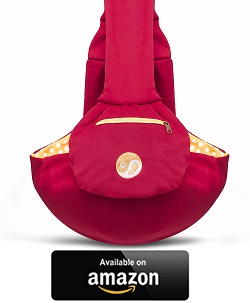 Features a zipped pocket that allows you to store your car keys purse or wallet, dog treats and other essentials
Comes with a waterproof-bag container
A versatile and spacious dog carrier sling that is suitable to use for dog breeds such as Bichon Frise, Maltese, Chihuahua, Pomeranian, Poodle, Pug , Shih Tzu, Yorkie, Westie, Pekingese and other small dogs or animals.
The fabric is made of cotton and polyester which is machine-washable and convenient to clean and free from pet hair
Double-sided design allows your dog to feel relaxed and comfortable
100% 90 day money back guarantee, no questions asked
9) Wewalab – Red Pet Sling Carrier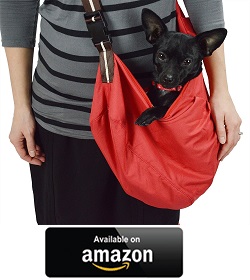 Oxford cloth is durable and breathable for your pet
Easy to clean and machine washable
Works for adults and kids with an adjustable shoulder strap is included
Pockets are large enough to carry extra water or toys for your pets when taking them for walks
Includes a collar clip / safety leash
10) Dexdog – Pet Carrier Sling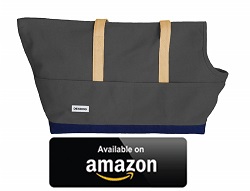 This pet carrier sling can help to ensure maximum protection and comfort for your dog
The comfortable designs enables you to carry your dog for extended periods of time
The premium quality double layered cotton duck canvas, ensures maximum durability for long, heavy use
There are double – stitched details on all seams inside and out
the zipper safely protects your pet from jumping out
The sturdy foot pad is removable
An ideal sling for dogs that are up to 12″ long and 14″ in height
Comfortably supports dogs that weigh up to 11 lbs