One of the best ways to bring your furry companion(s) with you on vacations, and while you're traveling, not to mention including them in outings and outdoor activities such as bike rides, and hiking, is through the use of a dog carrier backpack, sling or purse.
They can offer you a safe and secure means of bringing your pooch with you, and introducing them to new sights, sounds, and smells, without them feeling overwhelmed. Aside from using a suitable carrier backpack, you can also take your dog out with you, in comfort and style with the use of doggy clothing and other accessories.
Why Would You Use a Dog Carrier Backpack?
There are many reasons for why you may want to consider using a Carrier Backpack or a Sport Sack. It could be due to your individual dog's needs, activities, or the environment that you might need to bring your dog to. Either way, they can enable you to carry your dog around with you in both comfort and style.
#1 Exercise and Inclusion
Not all dogs are the same when it comes to their fitness, and capabilities. Whether you're going for a long hike, on off-road adventures, bike rides, or simply going for a longer walk then what your dog can handle, then you may want to consider using a carrier. They are a great way to include dogs that have little stamina, short legs (such as puppies), or have gotten on in age, and are unable to keep up with you.
#2 Transportation
Dog carrier backpacks, are also a great means of transportation for your dog. If you need to bring your dog with you on the train, on some domestic flights, or in a taxi, the carrier backpacks make it so you can transport them in comfort. A carrier backpack also enables you to bring your dog with you on motorcycle rides, without having to install a purposely built dog carrier sidecar.
#3 For Comfort and Security
Traveling to a new area, or moving house, can be rather stressful for some dogs. A shy or nervous dog may find new sights, sounds, smells, or even crowds to be overwhelming at first.
A backpack is a good way to try and keep a nervous pooch calm when you are bringing them to somewhere new. Carriers can provide an extra layer of security for your dog, in crowed, noisy, and unfamiliar spaces.
This can make it easier to introduce your dog to their new surroundings if the are the shy type. City life may have a lot more noise and crowds then what they are use to, and the country life may introduce them to strange smells and animals, all of which could be overwhelming at first for some dogs.
Another benefit is that while you carry your dog in a carrier backpack in crowded areas, it keeps your dog within your own walking space, and allows you to rest your dog on your lap when you sit down.
---
Choosing the Ideal Dog Carrier Backpack and Sport Sack
There are many different styles of dog carriers on the market, each one can be better suited for a different size and breed of dog.
When choosing the carrier that would be best suited for you and your dog, there are a few things that you need to consider.
#1 The Size of Your Dog
Not all Labradoodles are the same size. Choosing the right carrier backpack will largely depend on the size of your dog. So every measurement, needs to be taken into consideration. Workout the following measurements for your dogs size:
Their weight
The circumference of their chest
Their shoulder height
The full length of their body (not including the tail)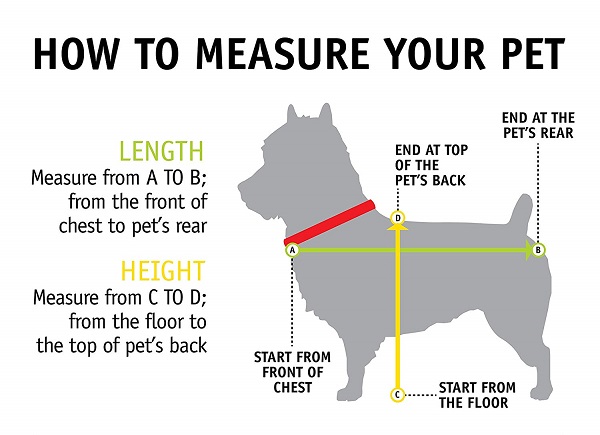 Once you know your dog's measurements, cross reference them against the requirements provided by the manufactures for their carriers.
The Average Size and Weight of a Labradoodle
Standard Labradoodle

Male Height: 22 to 24 inches (56cm to 61cm)
Female Height: 21 to 23 inches (53cm to 58cm)
Weight: 50 to 65 lbs (23kg to 30kg)
Medium Labradoodle

Male Height: 18 to 20 inches (46cm to 51cm)
Female Height: 17 to 19 inches (43cm to 48cm)
Weight: 30 to 45 lbs (13kg to 20kg)
Miniature Labradoodle


Male and Female Height: 14 to 16 inches (35cm to 41cm)
Weight: 15 to 28 lbs (7kg to 13kg)Miniature Labradoodle
#2 What is the Intended Use of a Dog Carrier Backpack?
The design of the carrier backpack, will define its uses and limitations.
A shoulder strap dog carrier may make exercise and outdoor activities difficult to do while carrying your dog. They are ideal for traveling and functioning as a car seat though.
If you are looking to exercise while carrying your dog, be it hiking, riding the bike or simply going for a long walk you may want to consider picking a lighter back that would be more comfortable for you to carry. These bags don't offer as much room for your dog to move, so they may not be ideal for long distance traveling.
If you are looking for a multi-functional carrier, you may need to sacrifice some personal comfort, and get a duel function carrier that can be used for both transportation and during exercise.
You may also need to consider how quickly and easily it is to get your dog in and out of the carrier. If you are looking for a carrier that can be used to simply carry your dog once it is tired out during a walk, or when you come across terrain that your dog may find difficult to traverse. Then using a carrier that the dog could wear or easily jump into, may be a more convenient option for you.
#3 Features to Consider
After you have determined how you want to be using your dog carrier, there are a few things that can further determine whether or not a particular carrier would be ideal for you and your pooch.
The Comfort of Your Dog:
Picking the right sized carrier is important. The Goldilocks rule applies here when it comes to picking the right sized carrier. Keep in mind that anything too large or too small will make your dog uncomfortable. If you are carrying your dog for exercise, if it is going to be bouncing around, you will want a more snug fit to help prevent injuries. If the carrier is too small or too tight, not only may the dog if it uncomfortable, they may even find it difficult to breath.
The ideal sized carrier will provide enough support that matches the intended function. The carrier would so be able to support the dogs weight without sagging or bulging forward under their weight.
The fabric should also be soft enough so it does not dig into your dog, and breathable enough, to allow your dog to get a good amount of fresh air circulation.
Your Own Comfort
As you will be the one carrying the backpack, it is best to find one that is comfortable for you to carry. The straps need to be wide enough so it does not cut into your shoulders, and the fabric should be soft and breathable so it does not cause irritations.
The size and length of the bag will also determine how the weight is being carried. If the balancing of the bag is too high, low or to one side, it can cause strain and fatigue in your lower back and shoulders.
Though it is important to provide our dog with enough room for them to be comfortable you would also want to be able to prevent your dog from unexpectedly shifting of their weight. This could cause you to become unbalanced and fall over if not pulled to the side. A sudden weight shift could also cause you to pull a muscle as you try to counter balance/brace.
Check for Ventilation and Water Resistance
Ask yourself, if you will be using the bag in all weather conditions?
Proper air flow ensures that your dog gets enough fresh air and helps to keep them cool on those hot summer days.
Water resistant fabric helps to prevent your dog from getting wet and feeling cold if you are caught out in the rain.
Some carrier backpacks offer a mixture of fabrics for all weather conditions. Others may provide a protective cover that you would need to manually place over the backpack to help keep your dog dry.
Safety and Security
Making sure that your dog can be safely and securely fastened within the bag is highly important. You never know if, or when your dog may get spooked or overly excised and try to jump out of the bag.
If your dog was to take a fall from a medium height, they could easily get hurt. Especially if they got caught up in the bag as they fell, or pulled you down with them. It is best not to rely on just zippers and draw strings to seal off the bag or hold your dog in place.
Look for a dog carrier that offers a safety collar anchor system within the backpack itself. This can help to ensure that your dog won't be able to escape from the bag, or fall out unexpectedly should you lean over in such a manner that there is a risk of the dog tumbling out.
Resting and Mobility
Some backpackers offer the option for the pooch to have their legs protruding from the bag. This allows the dog to move and look around, while it is still being securely fastened within its carrier.
Not all dogs are comfortable with these sorts of carriers mind you. Whether it's having their legs sticking out while they are being carried, or the awkward feeling of "wearing" the carrier while they are walking around. It is best to make sure that your dog is comfortable with these sort of carriers, if this is what you are looking to use.
If you get tired out from carrying your dog around, you may want to take the carrier backpack off. If the situation permitted, this could be a good opportunity to let your dog out and stretch their legs for a bit.
Unfortunately these opportunities are not always available. Which means that you either need to place the backpack down and not move while you take a break, or alternatively you may want to consider getting a carrier with wheels. Some carriers can have the wheels folded down when they're not in use, others may already have the wheels at the ready.
Just like with many travel luggage bags, these carriers may have a telescopic handle for you to extend and pull the carrier along, others may use a lead/strap system instead.
Ease of Cleaning
One last important thing for you consider when choosing a carrier backpack, is how easy is it to clean. Aside from general cleaning and airing out, one other thing to be mindful of, is that accidents happen. This is especially true when it involves a young pup that may not be fully house broken yet, or an older dog that may no longer have full control over their bodily functions.
One work around, is to treat your carrier backpack as if it's a generic pet carrier, and use pet liners and sanitary pads just in case there are any little accidents.
---
Our Top 7 Picks for Dog Carrier Backpacks
1) CozyCabin – Pet Carrier Backpack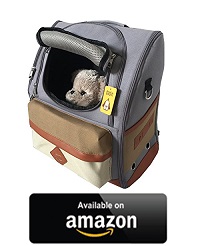 Flip breathable mesh enclosure
Easy to clean and anti-static material
Adjustable soft shoulder straps
The side of backpack can also be opened for an easy and convenient way for your dog to get in and out of
There is addition storage with two side bags, and a front pouch
2) PetAmi – Premium Pet Carrier Backpack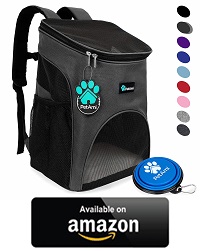 A well ventilated design for optimal airflow and for checking on pet
Compatible with soft cozy sherpa liner bedding
This backpack comes with both waist and chest buckles to give you extra support.
Includes added side pockets for extra capacity and a collapsible pet bowl so you can keep your pet hydrated on the go
The backpack comes with a safety strap to help secure your pet and prevent escape.
Made with durable 600D high grade polyester
Available in 7 Colors – Black, Dark Gray, Light Gray, Royal Blue, Light Blue, Red, Pink
3) Pawfect Pets – Pet Carrier Backpack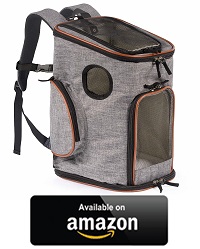 Made to suit the largest dimensions allowed by major airlines as a carry-on
This carrier keeps your pet safe and secure while flying, walking, cycling, or hiking with claw-proof mesh and zipper buckles
There is also a leash tether to attach to your dog's collar
Two removable, hand washable fleece pads
Plenty of air flow and durable construction allow you to enjoy the flight, walk, or hike worry-free.
Adjustable shoulder straps with extra thick padding for your shoulders
Lower back lumbar support for long walks, hikes & adventures
Can be folded flat for easy storage
Approved for use by most major air lines
4) Pawsee – Pet Carrier Backpack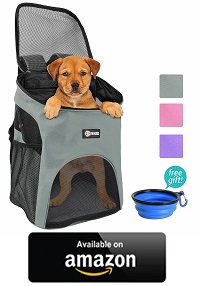 Great for traveling, riding, walking, sightseeing, camping, hiking or trips to the vet
The Pet Carrier Backpack comes with adjustable waist and chest buckle straps help keep the backpack stable while the dog is moving
Built-in collar buckle will secure the pet from jumping out or falling
4 huge breathable meshes provides the dog a look through window and good ventilated
Side pocket storage with a collapsible bowl
Soft plush bottom mat will make your pet relax
Airline approved
Made of nylon, that is resistant to bites, abrasion, and is washable
Available in 3 Colors – Grey, Pink, Purple
5) K9 Sport Sack – AIR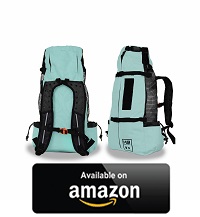 Great to for bike rides, hikes, and skiing, as well as when traveling on subways, to the shopping, or on motorcycles
Can be ideal when trying to help your dog deal with anxiety, depression, and include them despite any physical disabilities or mobility issues caused by old age
Available in 4 sizes to fit your tiny teacup chihuahua or larger sizes for your chubby frenchie or corgi
USA based company with a performance guarantee
Available in multiple colors
6) PetAmi – Deluxe Pet Carrier Backpack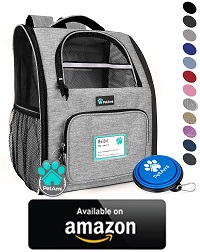 Well ventilated design for optimal airflow
Two-way entry for easy access
Zip up mesh window for more headroom and visibility
Comes with a thick, cozy sherpa lined bedding so your pet can rest and relax.
This backpack is firmly structured, providing ample room for your pet to move around.
Equipped with a firmly reinforced structure to prevent itself from collapsing on your dog while traveling
Includes a safety strap and buckle to secure your pet and prevent escape
The back and shoulder straps are equipped with extra thick padding for more comfort during long trips.
Comes with both waist and chest buckles to give you extra support
Also includes added side pouches and a front pocket to store essential pet supplies
Made with durable 600D high grade polyester for a long-lasting experience
Available in 9 Colors – Black, Dark Gray, Heather Gray, Heather Taupe, Light Blue, Light Gray, Pink, Royal Blue, Red
7) BINGPET – Dog Backpack Carrier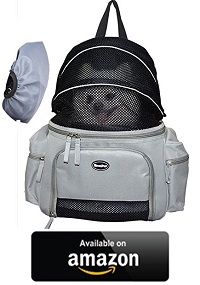 Mesh window can be secured with a snap button after opening
Enough space for your dog to get in and out
Double ended zippers for more convenient use
Combine with the other three snap buttons on the back, the windshield will protect your pet
Adjustable padded shoulder straps with a sturdy waist strap
Easy to carry and adjust while wearing
A front access point makes it easy to give the bag a clean
The half mesh design makes carrier well ventilated
Includes a soft fleece mat that is removable, and easy to clean
An internal leash can be attached to the collar
---
Our Top 6 Picks for Traveling Dog Carrier Backpacks
1) Snoozer – Wheel Around 4-In-1 Pet Travel Carrier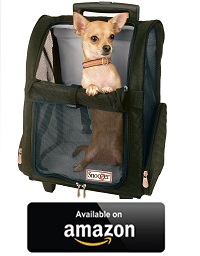 Available in 3 sizes – small medium and large
Available in 3 color pallets
Excellent for airline carry on travel
Packs and ships flat for easy storage
Multiple storage pockets and inner leash clip
Durable micro fiber wipes clean
2) Pet Gear – I-GO2 Roller Backpack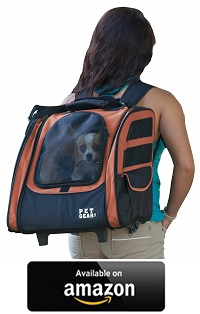 Available in six colors
Five products in one; carrier, car seat, backpack, roller bag and tote
Included tether can be attached to your pet's harness for extra safety
Telescoping handle stores out of the way just like a suitcase
Sides can be expanded to add 3 inches of additional space
Features two side storage pouches for your dog's extras
3) Pettom – Pet Rolling Carrier Backpack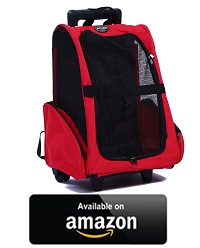 Available in two sizes
Comes in 2 or 3 colors (size dependent)
Excellent for airline carry on travel
Mesh on 3 sides for pets viewing, which is comfortable & Breathable
Multi-stage telescopic carrier handle
A latch inside to hook to the animal's collar to
4) ibiyaya – Multi-function Pet Carrier
Available in five colors
5 in 1 MULTI-FUNCTION PET CARRIER – Can be used as a PET CARRIER, BACKPACK, CARSEAT, PET CARRIER STROLLER and ROLLING CARRIER
Perfect for everyday use, trips to the vet, hiking, riding, road trips.
CARRIER – Passed Environmental Stress-Cracking Resistance (ESCR) test, and SGS quality test.
NO cheap toxic chemical smell
STROLLER – Manufactured according to baby stroller standards
Super easy to maneuver
Sturdy EVA wheels
Easy one-hand-fold mechanism
FOLDING CART – High quality wear-resistant wheels with light metal and plastic frame.
Large opening makes it easy for your dog to get in and out
Sturdy mesh window and perforated holes ensure ventilation and visual-ability
Roll-up flap at the entrance offers privacy
ACCESSORIES – Stroller Frame. Folding Cart with multistage telescopic handle. Machine washable padding. Tether with snap hook X1, adjustable shoulder strap with padding.
5) One for Pets – The EVA Backpack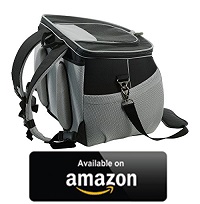 Available in two sizes
Comes in two colors
The spacious interior means your dog can sit; stand or even lie down comfortably
Zippered top mesh opening allows your pet to stick its head out to enjoy the fun of the trip or for you to interact with your pet
Adjustable security leash inside the bag helps restrain your dog or keep them stable
6) HARBO – Pet Travel Carrier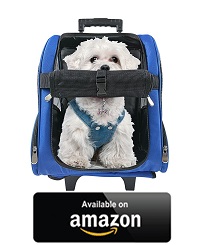 Available in two colors
Perfect for flying, traveling, hikes and other outdoor activities
Large mesh windows provide great ventilation ensuring your pet will get plenty of fresh air
Two side pockets with zipper, for more storage space to keep toys , snacks etc
An internal tether buckle to secure your dog
---
Our Top 6 Picks for Legs Out Dog Carrier Backpacks
1) PAWABOO – Pet Carrier Backpack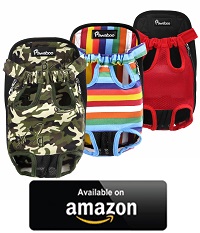 Available in Small, Medium, Large, and Extra Large
Made from breathable cotton and polyester fiber, durable and comfortable
Two mesh side panels allows for maximum air circulation
Hook and loop, zipper and elastic openings allow you to fit your dog inside comfortably
Release Buckles on the end of straps ensure quick and easy one handed installation
Adjustable straps, and be worn on your front or your back
2) NICREW – Front Dog Carrier Backpack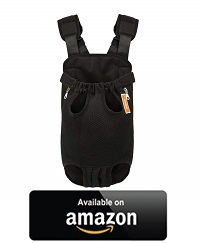 Available in Small, Medium, Large, and Extra Large
Easy on/off design for quick access and removal
Added mesh panels allow maximum accessibility and ventilation for your dog
Wide straps and shoulder pads, for extra comfort
An ideal carrier, for taking your small dog on adventures together
3) COODIA – Front Chest Dog Backpack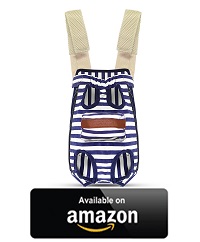 Available in Small, Medium, Large and Extra Large
Front carry design makes it easier to take care of your pet
Can also function as a back pack backpack
Zippers on the two sides makes it easier to wear
Built-in safety latch helps to prevent your dog from flopping over
Great for cycling, travel, shopping, and walking outdoors with you dog
4) GEEPET – Front-Facing Dog Carrier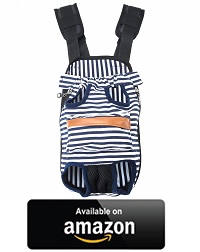 Available in Small, Medium, Large, and Extra Large
Can be used as a forward facing and standard backpack
1.5″ wide adjustable straps with comfort pads, the straps will never cut into your back/shoulders any more
Nice for walks, bike rides and other outdoor activities, you'll never have to leave your puppy home alone again
5) Riveroy – Travel Backpack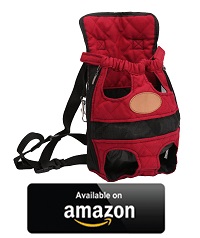 Available in Small, Medium, Large, and Extra Large
100% polyester material,durable and comfortable
Machine washable
Two mesh side panels for maximum air circulation
Easy-in and easy-out two zipper design
Adjustable wide straps make it easier for you to wear and reduce the pressure on your shoulders
6) PetBonus – Kangaroo Pouch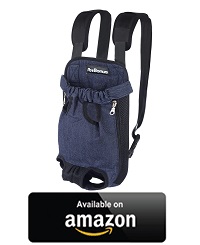 Available in Small, Medium, Large, and Extra Large
The front pack dog carrier design can help you to easily carry your dogs and have your hands free
Made from soft denim and polyester fiber
Two mesh sides of the carrier ensure good ventilation
With adjustable Velcro straps at the dog's neck
Easy to us and machine washable
1.5″ wide adjustable straps with comfortable pads,the straps will never cut into your back/shoulders
Comfortable enough to use for longer periods of time
---
Our Top 4 Picks for Mobile Dog Carrier Kennels/Beds
1) PetPuppy – Expandable Pet Carrier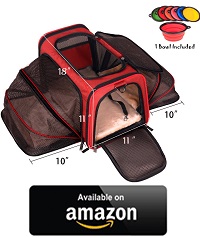 Available in four colors
Designed to fit under the front cabin seat of major airline carriers
A thick wire frame at the top offers extra stability, eliminating sagging corners, and bunched up edges, as well as extra protection
Two side expansion, create a comfortable area for your pet to move around in with increased air circulation
At home or out on vacation, it transforms into a mini pet condo
The ventilated top and expanding sides also keep your pet from feeling trapped or enclosed
Comes with a random colored pet bowl, a shoulder strap, and a bottom fleece base
The side slip pocket is perfect for storing snacks, treats, medicine
This carrier is built to last and comes with a 100% 1-year money-back guarantee
2) Casual Canine – Ultimate Backpack Carrier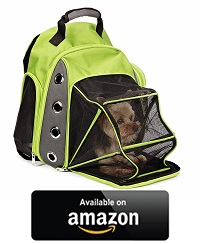 Take your pet with you wherever you go with this backpack
Featuring comfortable shoulder straps for hands-free carrying
The optional mesh ten zips open to create a resting area so your dog can breathe and observe their surroundings
Constructed to last with 100 percent polyester
Self-locking zippers and other high-quality components for long-term use
Includes extra side storage pockets for housing treats, toys, medical records, personal belongings and more
Comes with a removable, easy-clean berber mat, that can be spot cleaned with a damp cloth and line dried
3) Pet Magasin Pet Travel Carrier Backpack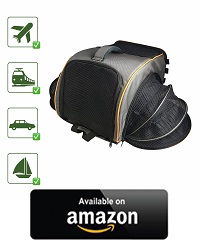 Perfect for outdoor adventures
Great for camping, hiking, walking in the park and any outdoor travels
Easy access with great air flow
Made of durable, lightweight, waterproof materials and strong YKK zippers
A removable hard support board at the front of the backpack keeps it in good shape
This all in one carrier can be used as a regular carrier or a backpack; and it opens up into a portable kennel
Zipping open its two side panels, gives your pet some room to walk around
Folds flat for easy storage
Its waterproof material is easy to clean
The backpack conforms to the dimensions that major airlines allow for carry-on, and it can be carried by a handle or worn as a backpack
4) Natuvalle – 6-in-1 Pet Carrier Backpack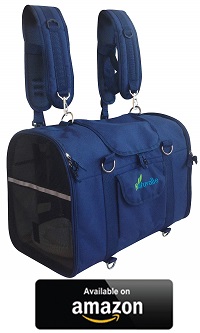 Available in three sizes
Designed with comfort and ease in mind
You can carry your dog on your back, your front by the handles, or use the over the shoulder carrier straps
All straps are removable and interchangeable
Extremely flexible and can fit under almost any airline seats
The flexible frame keeps the carrier completely unfolded and protects your pet from getting crushed when lifting it with the handles, or onto your back, front or shoulder.
Made with 600 Denier Oxford water resistant fabric and reinforced zippers & locks
4 High quality meshes secure maximum air ventilation for your pet
The security locks prevent your pet from pushing the zippers open
Can be secured in the car with the use of the seatbelt loops
Folds to about 2 inch for easy storage
Your pet can be secured with the inside leash so it does not escape when the doors are open
Reflective straps for night travel, hiking, offloading from a car, cab, bus etc.
Walk-Through-Doors means there's no need to push your pet in or pull it out backwards -Simply let your dog walk in and walk out
Makes an excellent home away from home for your dog while it's on vacations