On the hottest days in Summer, the majority of us either head to the beach or stay inside with the air-conditioner on high. It is important to understand that our Labradoodle friends also feel the heat. Preparing your Labradoodle for the warmer weather is vital in ensuring he or she remains healthy. These Summer pet safety tips will make sure that your dog can happily lap up the warmer weather with you.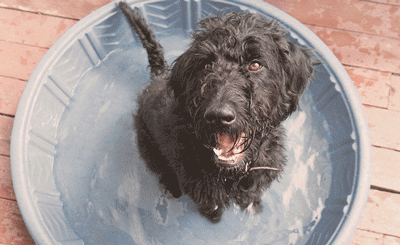 Why Do Our Dogs Feel the Heat?
Unlike us humans who release heat with sweat, our fury friends do not have this ability. A Labradoodle releases heat by panting which exchanges the warm air for cool air. Unfortunately this heat release does not work efficiently if the air temperature exceeds their body temperature. Who would have known our fury friends could be more prone to heatstroke than us.
Hot Weather Checklist for Labradoodle Owners
My Labradoodle has a sufficient amount of fresh clean water.
Ensuring your dog has enough water each day is the most important thing followed by food and shelter. Dehydration can be deadly for a Labradoodle dog. If you intend on taking your Labradoodle to a park ensure you have a portable water dish packed in the car.
Purchase a portable dog bowl for your fury friend here.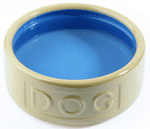 I have provided my Labradoodle with shade and have limited heat exposure.
Labradoodles have thick fur which means they really feel the heat on a hot day. Providing your Labradoodle with a shaded area where they can escape the heat of the day is important. The sun is at its hottest during the middle of the day so it is imperative during this period your dog has shelter.
If you do not already own a dog canopy for your Labradoodle, you can find out more about them here.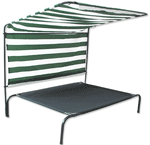 I have given my dog a cut/clip in preparation for Summer. 
During the Winter months many of us try and let our dogs fur grow out to protect them from the cold weather. During Summer is the time to keep your dogs coat short and breathable. Your dog will not only stay clean but will also be cooler during those hot days. Ensure you do not shave your Labradoodles coat to the skin as then they will then be at risk of sunburn. Leave an inch at least of fur remaining on your Labradoodle. Most reputable groomers will know what your puppy needs when you ask for a Summer trim.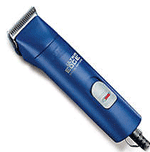 I have applied sunscreen to my dog if needed.
Similar to humans, dogs who have pale colored fur require sunscreen when going into the direct sunlight for an extended period of time. For dogs with pale noses it is crucial that you apply sunscreen or zinc during Summer. Also applying sunscreen to the tips of your dogs nose and around the skin of their mouth can limit the risk of them suffering from sunburn. Dogs that get sun burnt suffer similar to humans with peeling skin, redness, pain and in serious cases skin cancer.
If you have not already purchased sunscreen for your Labradoodle, you can find out more information on pet sunscreen here.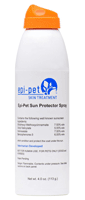 I have provided my Labradoodle with cooling aids where

necessary

. 
Freezing a chew toy or offering your Labradoodle a frozen bottle of water can help them cool down on those heatwave Summer days. For the more invested dog owners, you can purchase a dog cooling mat for your fury friend. These mat are made with a special cooling gel inserted in the inner lining allowing your dog to lay on them and cool down. These mats generally retail for around the $40.00 mark on Amazon.
Find out more about dog cooling mats here.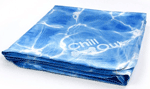 Things to Avoid Doing on a Hot Day with a Labradoodle
When the weather starts to warm up you may need to readjust the way you plan out your days. Activities that you regularly do with your Labradoodle such as playing catch or long walks should be carried out during the early morning or evening. The peak of a hot Summer's day is around lunch time so it is best to avoid highly strenuous activities during this time period. Not only will the heat of the day cause heat stroke for your Labradoodle, the pavement becomes increasingly hot which can result in burns on your dog's feet pads. Asphalt, pavement and gravel should be avoided on excessively hot days.
During the hot weather in particular you should not leave your Labradoodle unattended in a car. Many dogs have been reported seriously ill or have passed away from being left in a car on a hot day. Just like children, Labradoodles will suffer from dehydration and heat stroke. Ensuring your Labradoodle has shade that they can reach is important. Never leave your dog tied up in the blaring sun on a hot day.
During the Summer months a whole new range of insects make your garden their new home. It is important to ensure your Labradoodle can not easily come into contact with known wasp nests or bee hives. Ensure all chemicals used in the garden are animal friendly.
What Can I Provide my Labradoodle with on a Hot Day?
Being a retriever, your Labradoodle will love a good paddle in some warm water. Setting up a doggy play pool on a hot day will give them water to cool down in. You can purchase a special 'Bone Pool' online for your Labradoodle or alternatively buy a clam shell from your local hardware store and fill it a quarter full with water. Furthermore you can offer your Labradoodle one or more of the following on warm days to help them cool down:
An ice pack under a towel. You will find your Labradoodle will retreat to this area to cool off if needed.
A couple of ice cubes in their water dish to keep their water cool. Us humans don't like drinking warm water so why should our loved fury friends.
Offer frozen treats such as cubes of frozen watermelon.
Offer a high calorie diet. Your dog has to work extra hard in the hot weather. There's nothing like a hearty meal after a tough day.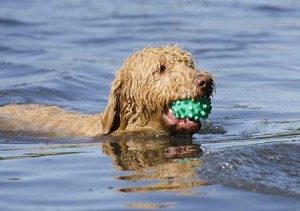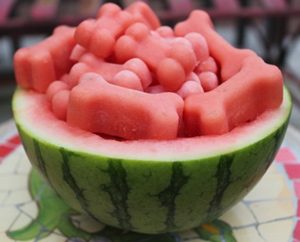 'Pupsicles' – Frozen Treats Your Labradoodle will Love on a Hot Day
If you know hot weather is fast approaching, be prepared and cook up some pupsicles for your Labradoodle. Pupsicles are simply frozen treats to give your dog as a reward on a hot day. These simple and easy recipes will please your lovely Labradoodle.
Banana Pupsicles
This recipes will make approximately 16 treats depending on the size of the moulds you use.
To purchase doggy treat moulds click here.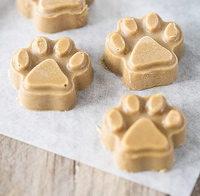 Ingredients Needed:
4 x cups of yoghurt
2 x tablespoons of peanut butter
3 x ripe bananas (peeled and mashed)
Method:
In a food processor combine and blend all ingredients.
Pour the ingredients into moulds of your choice (for example, bone moulds) and pop them into the freezer.
Leave overnight.
Reward your dog with the banana pupsicles on a hot day.
Pumpkin Pupsicles
Another doggy favorite is these pumpkin pupsicles. The best part about creating pupsicles is the shape is entirely up to you. Browse a range of pupsicle moulds here.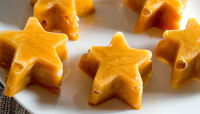 Ingredients Needed:
1 x cup of yoghurt
1 x teaspoon of honey
1 x can of pumpkin puree (or alternatively you can puree your pumpkin from scratch)
1 x ripe banana
Method:
Add all ingredients to a food processor and blend until there are no lumps.
Spoon mixture into moulds of your choice.
Freeze overnight.
Reward your puppy and see the joy on their face.
Heat Stroke
Preventing Heat Stroke
The best cure for heat stroke is prevention. Heat stroke can be fatal and should be treated as a medical emergency.An owner can easily prevent their dog from falling ill with heat stroke by ensuring they have completed all of the items on the checklist above. On hot days it is crucial to take precautions and not expose your Labradoodle to direct sunlight especially during the middle of the day. Also ensure your dog is kept in a ventilated area. This means leaving your dog in the car is a definite no.
How to Identify Heat Stroke
The two most prominent causes of a dog with heat stroke are those who have been left in a hot car or those who have not been provided with adequate shelter from the sun. A Labradoodle who is suffering from heat stroke may show one or more of the following signs to their owner:
Excessive panting
A High fever
Vomiting
Diarrhoea
Seizures
Collapsing or looking drowsy
Skin that feels warm to touch
Constant staring
Refusal to obey simple commands
Treating Heat Stroke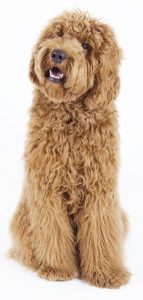 If you have found your Labradoodle suffering from heat stroke it is vital that you immediately remove them from the heat of the day. This may include bringing them inside near an air-conditioner or fan. You should give your Labradoodle a cool bath or wet them with a damp cloth to bring down their temperature. Apply a frozen pack to your Labradoodles head if you see no improvements after giving he or she a bath. Provide your dog with fresh, cool water for drinking and sit with your dog to provide them with the comfort they need.
You will need to check your dogs temperature over a period of time and seek professional medical advice from a veterinarian. They may give you over the phone advice or wish for you to bring your Labradoodle straight in. Heat stroke is traumatising for your dog so it is important to ensure they are feeling better before allowing them to go back outside.