In terms of the Labradoodle breed, there are three main coat types that vary in look and feel. While a Labradoodle's coat does not permit any smell like other breeds, each coat type has it's own grooming requirements.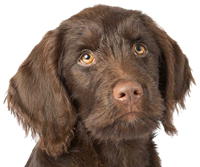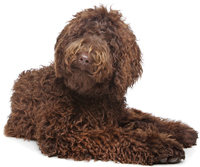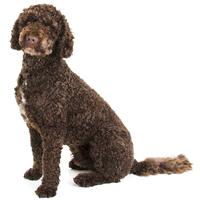 A Labradoodle's coat can change in color and type as they mature which means an owner should never choose their ideal puppy based on appearance alone.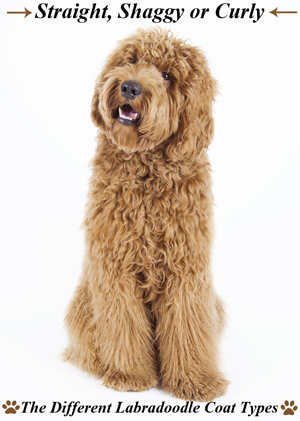 What Determines a Labradoodle's Coat Type?
You may be wondering how dogs within the same breed can have coats that differs so much. Your dogs genetic line ultimately determines the type of coat they will have.
First generation Labradoodles, the litter of a Poodle and Labrador parent, typically have a non shedding coat that is wavy with loose curls. A F1B Labradoodle, the direct result of one Labradoodle parent one Poodle parent, generally have wavy or fleece fur. Both F1 Labradoodles and F1B generation Labradoodles are recommended for those families with allergy sufferers. In saying this, non-allergenic hair coated Labradoodles, are the most common in the first generation breeds.
Labradoodle Coat Types:
Hair Coated Labradoodle (Straight)
Less common than the other coat types is a hair coated Labradoodle. A hair coated Labradoodle does not look similar in appearance to their fleece and wool coated brothers and sisters. A hair coated Labradoodle often referred to as having a straight coat looks more like their Labrador parent. Often these Labradoodles look scruffy in appearance.
It is important to note that a Labradoodle puppy is not usually born with a noticeable 'hair' coat. Once a Labradoodle reaches around 12 weeks of age, the hair coat will begin to make it's appearance.
The muzzle area of a hair coated Labradoodle will be smooth and straight. They do not have the typical fluffy teddy appearance that the typical Labradoodle sports.
While a hair coated Labradoodle sheds, their coat can be easily maintained. These dogs are great for families that are time poor for daily grooming although they are not suited to families that have allergies.
A hair coated Labradoodle is often only the result in a first generation litter. It has been estimated that 89% of first generation Labradoodles will have a hair coat. The hair coated Labradoodles are less desirable by breeders due to the fact their hair coat sheds often. The hair coat feels wiry to touch.
Labradoodle Hair Coat Overview:
Typically a straight coat that can vary in length and thickness
Low maintenance although usually sheds
Recommended weekly bathing to remove shedding hair
Most commonly the result of a F1 Labradoodle
Scuffy in appearance and resembles the Labrador parent the most
Not allergy friendly
Hair Coated Labradoodles are Best Suited to Owners that:
Like the look of Labradors
Do not have allergies
Don't mind shedding
Want a dog with a coat that is easy to maintain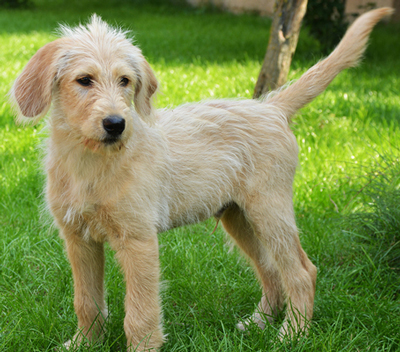 Fleece Coated Labradoodle (Shaggy)
The fleece coated Labradoodles often referred to as 'shaggy' Labradoodles, are the most common within the breed. Furthermore, the coat of a fleece Labradoodle is said to be the easiest to maintain. This low shedding coat (generally a non-shedding coat) should be brushed out at least once a week.
Fleece coated Labradoodles should feel soft to touch. The curls within the fleece can be slightly wavy to noticeably wavy. Kemp (a course hair) is often found around the eyes of a fleece coated Labradoodle.
Labradoodle Fleece Coat Overview:
Low shedding coat that is described as the typical Labradoodle look
Light and loose locks that have a wavy appearance
Requires weekly brushing
Usually allergy friendly dogs
Fleece Coated Labradoodles are Best Suited to Owners that:
Have no or mild allergies
Have time to groom their dog weekly
Want a dog that has minimal coat shedding
Like the 'typical' Labradoodle look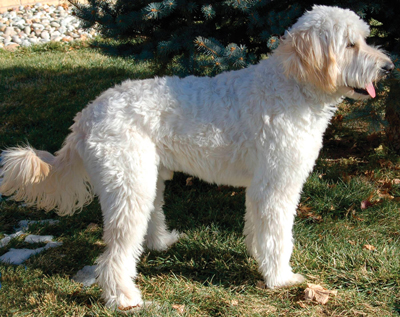 Wool Coated Labradoodle (Curly)
The wool coated Labradoodles often referred to as 'curly' Labradoodles are the second most common within the breed. The tightness of the curl purely depends on the  Labradoodles genetics. While some wool coated Labradoodles have tight curls that appear similar to the coat of their Poodle parent, others have a loose curled coat.
If you own a curly coated Labradoodle, it is recommended that you groom your dog once a day. Alternatively, you may opt to shave your dogs coat shorter so that it can be easily maintained. The coat of a curly Labradoodle can almost be guaranteed to be non-shedding.
A wool coated Labradoodle can easily mat if he/she is not groomed for periods of time. Mats in a Labradoodles fur make it uncomfortable for them to run and lead an active lifestyle. It is recommended to take wool coated Labradoodles to a professional groomer every six weeks to maintain a healthy coat.
A wool coated Labradoodle feels soft to touch and has a coat similar to that of a lamb. The wool coat of a Labradoodle should hang with hollow spiral when groomed appropriately. Often wool coated Labradoodles have dense and thick fur.
Labradoodle Wool Coat Overview:
A dense and thick coat that looks similar to sheep's wool
The best coated Labradoodle for allergy sufferers
Weekly brushing required
Wool Coated Labradoodles are Best Suited to Owners that:
Have allergies
Have time to groom their dog regularly
Can afford regular grooming costs
Require a dog with a non-shedding coat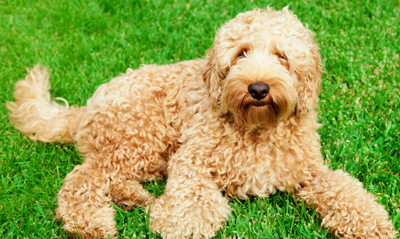 Coat Length and Maintenance:
A Labradoodle's coat should not be grown out further than 4 to 6 inches in length. Allowing your dogs coat to grow excessively leads to matting and in turn pain for your Labradoodle. The shedding coat is not desirable in this breed which is generally the result of a hair coated Labradoodle.
In terms of grooming your Labradoodle, it is recommended to book them in to see a trained dog groomer every 6 to 8 weeks. This applies to any coat type. Although hair coats do not require as much maintenance, the hair inside your dogs ears should be plucked regularly to avoid infection and build up. Furthermore, your dogs nails will need to be clipped regularly especially if you only have grass and no concrete.
Regularly home grooming should be performed to keep your Labradoodles coat in pristine condition without matting. Ensure you purchase a pet grooming brush recommended for long and thick hair while you Labradoodle is still a puppy.