The Diet of a Labradoodle
The Labradoodle is a high energy breed dog that comes in three size varieties. These dogs can range from small to medium in size and need to be fed according to their weight and activity level. Although this breed needs some nutrients found in vegetables and plants, the main part of their diet should consist of protein rich foods. Protein found within meat will provide them with the energy needed for their active lifestyle.
Unfortunately these dogs are prone to food allergies. This does not mean that all Labradoodles will have a food allergy, although this means that you should take precautions when they are a puppy and monitor the food you are giving them. Foods heavy in wheat, corn and soy should be avoided and where possible aim for a grain-free diet. A diet rich in animal fats will protect your Labradoodles skin and keep his coat nice and shiny.
When talking about a Labradoodle's calorie intake, an older less active Labradoodle will need approximately 1070 calories per day while a younger more active Labradoodle should have 1310 calories per day. The calorie intake a Labradoodle should have per day will depend on how active the lifestyle is that they lead. Some larger, energetic Labradoodles need up to 2000 calories per day.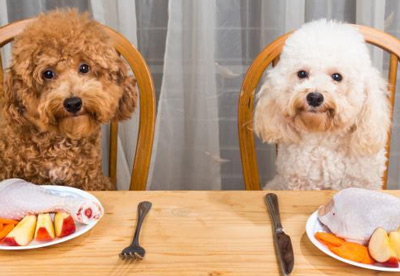 Puppies to Adults
When you first purchase your Labradoodle puppy they would have generally been consuming three meals a day. Once your puppy has settled into your home and they are a few months old you can limit them to two meals a day. Once your Labradoodle reaches a year old one meal a day can generally suffice them. Although one meal a day is fine for this breed of dog, most owners recommend feeding your dog of a morning and of a night. Food should not be left sitting around all day and should be removed after ten to twenty minutes if the dog is showing no interest. Food that is left out can go bad or attract unwanted pests. Always ensure your dog has enough clean, fresh drinking water at all times.
Doodlicious Food
You should always offer your Labradoodle a healthy and varied diet. A mix of wet foods, fresh foods and dry biscuits along with a plentiful supply of fresh water will keep your little guy or girl happy and healthy. If you have any concerns with your Labradoodle's diet always seek advice from a qualified vet.
Look for foods that contain lean meat: fish, turkey, chicken and lamb. Beef and pork are fatty meats and should be a second preference.
Aim to provide your Labradoodle with foods that have high levels of omega-3 and omega-6 fatty acids.
Provide your dog with small amounts of rice and potatoes and try to avoid grain heavy foods.
When purchasing dry foods aim to purchase small bags. This way if you have a fussy Labradoodle it won't go to waste and furthermore the dog biscuits will remain fresh.
Fresh Water
Always ensure your Labradoodle has enough fresh water at all times. Often setting up multiple water dishes is a good idea in case they knock one over when you are not around.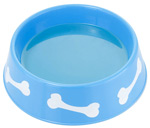 Dry Biscuits
There are many brands of dry biscuits on the market but which one is right for a Labradoodle?
When selecting a dry food for your dog it is important to look at the nutritious value but more importantly the list of ingredients. Try to find a food that contains a nice mix of meat and vegetables. The number one ingredient listed should be a type of meat. We do not recommend dry foods that have more grain than meat in them. Steer away from biscuits that have the word by-product in the ingredient list.
Canidae Dog Food
The 'Canidae Grain Free Pure Elements' dog food is a nice addition to a Labradoodles diet. This dog food is made with real meat and whole foods for better digestion. This food is perfect for dogs that are prone to allergies and food sensitivities as it does not contain any wheat products. This dry food has ten key ingredients meaning that you can easily identify if it is right for your Labradoodle. For example, the adult lamb selection includes: Lamb, turkey meal, chicken meal, sweet potatoes, chickpeas, peas, chicken fat, menhaden fish meal, potatoes, suncured alfalfa, plus natural flavor, vitamins, minerals and probiotics mix.
Price: A 12 pound bag will cost approximately $33.00. 
Check the Current Price on Amazon: Canidae Grain Free Pure Elements for Your Labradoodle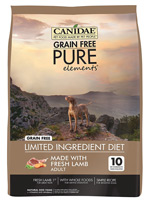 Nature's Recipe Dog Food
If you are looking for a nutritious, dry food for your Labradoodle the 'Grain Free Real Chicken Dry Biscuits' by Nature's Recipe is a suitable choice. These dry biscuits contain chicken as the number one ingredient and have no corn, wheat or soy ingredients. This is a natural dog food choice that has added nutrients, vitamins and minerals. This is an affordable choice that contains no nastys such as by-products.
Price: A 12 pound bag will cost approximately $20.00. 
Find out More Information About the 'Natures Recipe Grain Free Chicken Biscuits'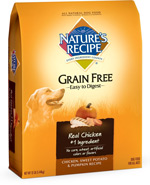 Merrick Dry Dog Food
Merrick have a large selection of grain-free, dry dog biscuits that are suitable for the Labradoodle breed. You can choose from buffalo, duck, chicken, lamb, salmon, beef and turkey selections for your four legged friend. These dog biscuits are high in protein (protein is the number one ingredient in all of their selections), contain no corn, wheat or soy (for easier digestion) and contain high levels of both Omega 6 and Omega 3 fatty acids. The Merrick dry dog biscuits are created in organically certified kitchens from real ingredients.
Price: A 12 pound bag of Merrick dry Dog food will cost approximately $40.00. 
Read More About Merrick Dry Dog Food Here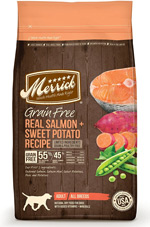 Wet Tinned Foods
If you intend on feeding your Labradoodle wet foods ensure that you choose a grain-free, protein rich selection. Avoid wet foods that contain by-products, non-specific animal sources, ethoxyquin, non-specific grain sources, the same ingredients listed differently multiple times, artificial colors, corn, excessive amounts of animal fats (other than fish oils), soy and soybeans.
AvoDerm Grain Free Tin Food
The AvoDerm company have a great range of grain free tin dog food suitable for the Labradoodle breed. Only quality ingredients are used in their dog food along with balanced levels of protein, fat, and nutrients. The main ingredients within all of their foods is protein making them a suitable choice for your dog. Some of their wet grain-free tin range includes chicken and vegetable and turkey.
Price: A pack of 12, 12.5 oz tins will cost approximately $26.00. 
Find out More About the AvoDerm Range Here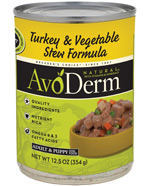 Raw Bones
Raw bones are a great treat for your Labradoodle. You can offer an extensive variety of boned meat including:
Lamb ribs
Chicken necks
Chicken wings
Marrow bones
It is important that the bones you offer your Labradoodle are raw. Cooked bones can splinter and cause health issues for your dog. Providing your Labradoodle with fresh, raw bones will improve their teeth, provide them with satisfaction, reduce boredom and give them a fresher smelling breath.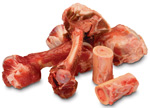 Other Raw Foods
Providing your Labradoodle with raw foods has many benefits including odourless and firm stools, improved digestion and less allergies. A raw diet is what a dog would have in the wild so it makes sense to include some of these foods in their diet.
Eggs
Fresh Cooked Vegetables
Fresh Fish
Treats for Your Labradoodle
Treats should be given only as rewards to your Labradoodle. It is important to use treats to reward your Labradoodle for obeying a command not to reward he/she for begging. Treats are not a vital part of a Labradoodle's diet and are more like a luxury item. They are a great training tool although should only be given in moderation. Too many treats can lead to your Labradoodle suffering digestive problems and becoming over weight. We recommend buying special treats recommended for the Labradoodle dog breed. Human treats may contain an ingredient dangerous to Labradoodles that you don't even know about.
When selecting treats ensure you choose something that is small and bite sized or a jerky stick that can be broken down into smaller bits. Try and aim to purchase treats that have natural ingredients and low salt contents. Treats made in China can have added ingredients to bulk them up that can be unhealthy for your dog. By now you will have noticed what your dog enjoys most. Try and find treats that have the ingredients your dog loves to eat.
There are many different dog treats on the market. Below we have listed just two types of treats that are perfect for the Labradoodle breed.
Rocco and Roxy Jerky Treats
Rocco and Roxy Jerky treats come in a number of flavors including beef, chicken and turkey. These treats are healthy jerky sticks that can be broken down into bite sized pieces. These treats do not contain corn, soy, gluten or unhealthy artificial flavors. Made from high quality American meat, these treats are a great choice for your Labradoodle friend.
Price: A 16 oz bag will set you back approximately $25.00
Check the Current Price of These Treats on Amazon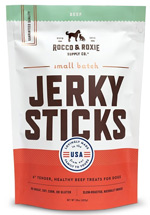 Zuke's Natural Dog Treats
These mini treats come in a range of flavors including chicken, pork, duck, salmon and rabbit. Meat is the number one ingredient in these treats and they come in the perfect bite sized portions. Perfect for the Labradoodle breed as they come free from corn, wheat and soy and contain less than 3 calories per treat! Zuke's Natural Dog Treats are perfect for training your Labradoodle.
Price: A 16 oz pouch will cost approximately $15.00
Find Out More About Zuke's Mini Natural Dog Treats Here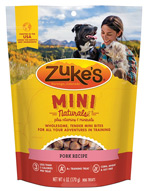 Questions to Consider When Choosing a Food for Your Labradoodle
When considering which food is right for your Labradoodle consider the following:
How much protein does this food contain? – The food you provide your Labradoodle with should contain more animal protein than vegetable protein.
What grains are in the food? – To many grains can lead to poor digestion. Try to avoid grain heavy foods.
Are there animal based fats? – Animal based fats within dog food can be easily digested and absorbed.
Are there by-products in the food? – By-products are often hard for a Labradoodle to digest. By-products are unsuitable for human consumption so we believe our four legged friends deserve the same.
Foods Dangerous to Labradoodles
The following foods should be avoided as they are dangerous to all dogs including the Labradoodle breed:
Chocolate – A stimulant in chocolate called Theobromine can affect a dogs heart, nervous system, kidneys and stomach.
Avocados – A component of avocados called persin can cause diarrhoea, heart congestion and vomiting if consumed by a dog.
Raisins and Grapes – These foods can contribute to kidney failure in a dog. Dogs with underlying health issues are more at risk.
Macadamia Nuts – If a dog consumes a macadamia nut it can lead to depression, vomiting, tremors and weakness.
Cooked bones – These bones can splinter easily and become lodged in a dogs intestines.