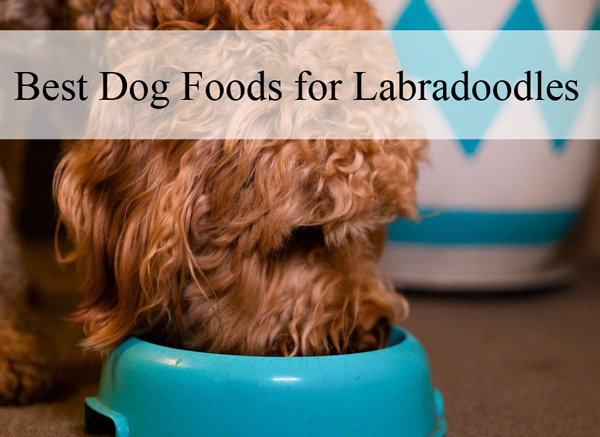 Labradoodles are friendly, loving but have boundless energy. They require regular daily exercise and will need a diet that fits their size and their daily level of activity. In this article we take a look at some of the best dog food on the market suitable for your fury Labradoodle friend.
What Should I Include in my Labradoodle's Diet?
Before we discuss the best dog foods for Labradoodles, it is important that owners understand what makes up a healthy diet for a Labradoodle. While selecting the cheapest packet of biscuits from the local grocery stall may seem like a good idea at the time, many of the cheaper branded items do not have the necessary amounts of protein and lack vitamins and minerals. Before you buy, always read the fine print and ensure one of the first two ingredients is a protein such as beef, chicken or lamb.
1 to 2.5 Cups of Food a Day is Enough for an Adult Labradoodle. Splitting the Amount of Food into Two Meals Can Avoid Gastric Tension.
Protein in a Labradoodle's Diet
Meat is the best form of protein that you can give to your Labradoodle. Protein contains amino acids and gives your dog energy. If the first two ingredients on a dog food packet are grains rather than protein, your better to put that packet back on the shelf. Within the first handful of ingredients seeing more than one animal protein is always a good sign. In terms of the type of protein, meat protein is always better for dogs than plant protein.
Fat in a Labradoodle's Diet
In terms of fats for dogs, they provide energy and healthy cells. Fats also maintain your dogs skin and in turn their coat. Fats that are labelled rather than generic fats are a better choice.
Carbohydrates in a Labradoodle's Diet
Carbohydrates provide your dog with the energy they need to keep going and keep the dog fuller for longer. While carbohydrates are good in small amounts, always look for products where the protein count is higher than the carbohydrate count. Wet foods are often lower in carbohydrates than dry dog foods.
Vitamins and Minerals in a Labradoodle's Diet
In terms of vitamins and minerals for dogs, calcium and phosphorus will help maintain strength in your Labradoodle's bones and teeth. Like us humans dogs need both vitamins and minerals to lead a healthy lifestyle.
How Much Food Should I Feed my Labradoodle?
A Labradoodle that Weighs 60 Pounds Requires Approximately 1313 Calories Per Day.
The amount of food you should feed your Labradoodle entirely depends on their age and in turn their activity level. Between 1 and 2 1/2 cups of food a day split into two meals, morning and afternoon is enough for an adult Labradoodle.
An adult Labradoodle's diet should contain 18% protein, 5% fat and carbohydrates in moderation. A Labradoodle puppy should be offered more protein and fats to meet their growing needs. Puppies should also be fed more regularly for example, four times during the day opposed to adults where twice a day is sufficient. Puppies have smaller stomachs meaning that only small meals can be digested at a time. A puppy becomes an adult around 12 months of age and this is when it is appropriate to start feeding your Labradoodle an adult diet.
Labradoodle's have no control when it comes to meal times. This is why vets recommend only leaving out food for an hour around meal times. If a packet of biscuits is left out, there is no doubt your Labradoodle will consume the entire packet and feel awful afterwards.
A good guide whether or not your dog is consuming enough food is their ribs. You should be able to just feel your Labradoodle's ribs although not see them. If you can see your dogs ribs from a distance, this is a warning sign that the dog is undernourished.
| | |
| --- | --- |
| Older Aged Labradoodle | Adult Labradoodle |
| 1074 calories per day | 1313 to 2000 calories per day (dependent on activity levels) |
Considerations When Selecting Food for Your Labradoodle
When selecting food for your Labradoodle there are a number of lifestyle factors that may affect the type of food that your dog will be able to consume. Always consider your Labradoodles:
Age
If you have a puppy, you will need to add more protein to their diet. In terms of older aged Labradoodles, you may need to provide a wet food diet if they have dental problems.
Health Conditions
If your Labradoodle has an allergy you may need to steer clear of a number of food groups. For dogs with health conditions such as hip dysplasia, fortified foods may be an appropriate way to supply the dog with a few crucial vitamins or minerals. For dogs with a gluten intolerance, there are many grain free options that are gluten free.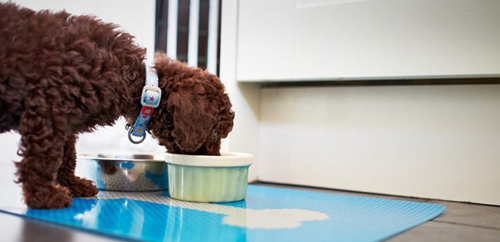 The Best Dog Foods for Labradoodles
The amount of food you provide your Labradoodle with daily will depend on which size category he falls into: miniature, toy or standard and how much he or she currently weighs. If your Labradoodle is suffering from joint problems or such they will require less food due to a decrease in physical activity. It is important to monitor how much food your dog is eating or isn't eating as this can be a warning sign for some illnesses. Once your dog reaches an older age, the amount they will eat will decrease but the type of food you offer them may also need to change. Some older dogs struggle to eat biscuits and may need to be fed a diet primarily consisting of wet food.
Below you can find a number of different dog foods that are suitable for medium to large sized Labradoodles.
Dried/Wet Foods Suitable for Labradoodles
---
Kirkland Natural Dog Food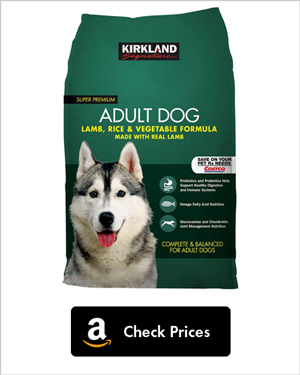 Kirkland is a well-known dog food brand and it is no surprise their adult dog food biscuits are packed with protein required for a healthy Labradoodle diet. Within the Kirkland 'Lamb, Rice & Vegetable Formula' your Labradoodle will be provided with a source of vitamin E, zinc, omega-6 and omega-3. These vitamins and minerals help to keep your Labradoodle's coat shiny, and maintain a healthy immune system.
This bag contains 40 pounds of biscuits and per cup you can expect 373 calories. Kirkland is well known for being a high quality dog food without the high associated costs.
This dog food contains 23% protein from lamb and has added glucosamine and chondroitin that support healthy joints which is important for breeds such as Labradoodles who are prone to hip dysplasia.
---
Purina Dog Food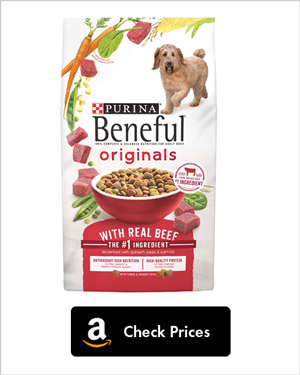 Purina has a number of different dog biscuits on the market, but there original formula is among the most popular. While the bags of Purina Beneful are not the largest, weighing 6.3 pounds, they are packet full of protein and real ingredients.
The #1 ingredient in their original dog food biscuits is real farm-raised beef. Purina do not add any sugar content to their dog biscuits and include whole grains and vegetables. In each bag of Beneful, there are 23 essential vitamins and minerals which will positively benefit your Labradoodle's health.
Beneful Originals can be purchased in three real protein flavors including beef, chicken and salmon. The protein count for the Benefuls Original with real beef is 23%.
---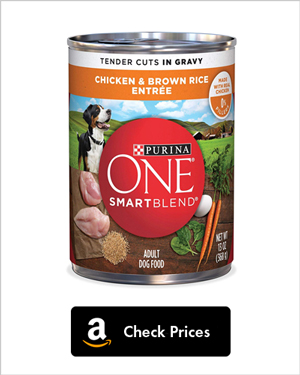 If you find that your Labradoodle prefers canned food over biscuits, Purina have a range of wet canned foods suitable for the Labradoodle breed. Purine One Smartblend is suitable for all adult Labradoodles and is made from real chicken in a gravy sauce for added flavor. Purina do not add any poultry-by products, only real chicken meat.
The protein count within a tin of Purina One Smartblend is 8% and contains a number of vitamins and minerals such as potassium, vitamin E, B group vitamins, vitamin A and folic acid.
If your Labradoodle weighs between 20 to 40 pounds, 1 to 2 cans a day will be enough if you are not mix feeding. Some owners prefer to give wet food of a morning and dry food of a night and in this case, one can and biscuits a day is sufficient.
---
Wilderness Dog Food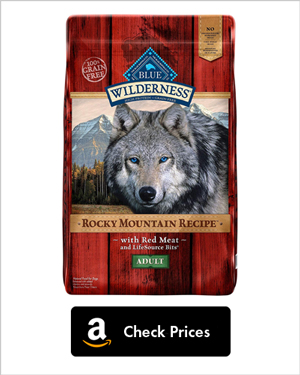 Blue Wilderness have a variety of different protein dog biscuits including beef, bison, rabbit and red meat that come in a number of sized packets. The Blue Wilderness Rocky Mountain Recipe is free from soy, corn and wheat and is also free from preservatives and by-products. This makes it a great choice for those Labradoodles who have an intolerance or allergy.
All ingredients that make up the Rocky Mountain Recipe are natural. Blue Wilderness biscuits provide your Labradoodle with protein for muscle development, calcium and phosphorus for strong bones and teeth, glucosamine for joint health, fatty acids for a healthy coat and antioxidants to support the dogs immune system.
The Rocky Mountain Recipe is made up of 30% protein in flavors that your Labradoodle is sure to love.
---
Dog Food Suitable for a Labradoodle Puppy
---
Pedigree Labradoodle Puppy Food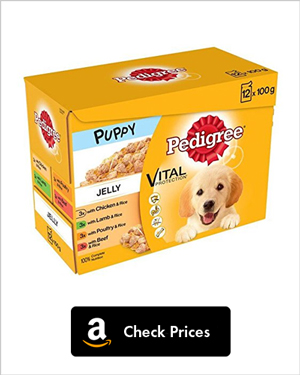 Puppies require a diet that differs slightly to their parents. A puppy requires the correct amounts of nutrition in those early stages to be able to thrive and grow.
Pedigree's Puppy Jelly pouches come in a variety of flavors that are all included in this value box. They all contain protein and rice for easy digestion along with calcium and phosphorous to support growth. Each sachet contains 8.5% protein and are 100 grams in weight. This size is ideal for a small puppy but as your puppy grows you may need to include biscuits as well as the wet food pouch in their diet.
---
What Foods are Unsafe for Labradoodles?
Now that we have discussed some of the best dog foods that you can provide your Labradoodle with daily, it is important to highlight a number of foods that are toxic to the Labradoodle breed, and for that fact most breeds of dogs. If your Labradoodle consumes one or more of the toxic dog foods it is important to make a trip to the vets as soon as possible.
Alcohol
More of an obvious toxin although alcohol in any amount can damage a Labradoodle's brain and liver. Signs that a Labradoodle has been affected by alcohol include: vomiting, diarrhea, difficulty breathing, tremors and in extreme cases, death.
Garlic and Onions
Both of these can cause a Labradoodle to suffer from anemia.
Seeded Fruits
While some fruits such as watermelon is fine for a Labradoodle to consume in moderation, any fruits with large seeds should be avoided as they can cause digestion problems for a dog.
Raw Fish, Meat or Eggs
Just like us humans, dogs are intolerant to raw products. Parasites found in raw meats can be harmful to a Labradoodle.
Sugar and Salt
Just like sugar and salt are bad for us humans, dogs are no exception. Sugar and salt should be kept to a minimum.
Citrus Fruits
Citric acid found in fruits such as lemons and oranges can be toxic to Labradoodles causing them to have an upset stomach.
Milk and Dairy Products
While dairy products are fine for dogs in moderation, dogs do not have a lot of lactase which is the enzyme that breaks down dairy. This means that if too much dairy is consumed by a Labradoodle, the result will be diarrhea.
Caffeine
All foods that contain caffeine should never be given to a Labradoodle. The result is rapid breathing, heart palpitations, fits and bleeding.
Grapes and Raisins
While some fruits agree with Labradoodles just fine, grapes and raisins should be avoided. Grapes and raisins can cause your Labradoodle to suffer from kidney failure.
Nuts
While some nuts are fine for Labradoodles they are never recommended. Macadamia nuts in particular are dangerous for Labradoodles and consumption may result in increased heart rate, vomiting, weakness, temperatures and paralysis.
Yeast
While some small amounts of yeast are tolerable, large amounts of yeast can cause a Labradoodle's abdomen to swell. This swelling will result in excruciating pain for the dog.
Chocolate
Chocolate like many forms of caffeine contains methylxanthines which results in a Labradoodle suffering from the following if consumed: vomiting, diarrhea, excessive urination and thirst, tremors, seizures, excessive energy and in some server cases, death.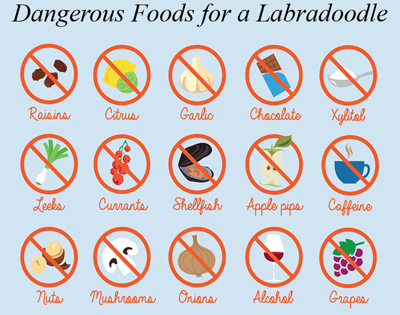 Keeping your Labradoodle in good health relies on feeding he or she a balanced diet. Read out guide to feeding a Labradoodle a nutritious and organic diet here.