Whether you are planning on purchasing a Labradoodle or you have recently brought your new puppy home, you may be finding it difficult to pick the perfect name for your companion.
Naming a new puppy can be fun but also a tricky process especially if children will be involved. In this article we've gathered a collection of the cutest, most fitting names for a Labradoodle puppy.
Considerations When Choosing a Name for a Labradoodle
Unlike humans, there are no limitations to what you can call your new fur baby. In saying this, keep in mind that you may be repeating this name multiple times a day and in public areas as well. Choosing a simple and short name for your Labradoodle can pay off in the long run; especially if they tend to be mischievous.
Just like deciding on a name for a newborn, you should stick to the name you choose once your dog has become familiar with it.
Some owners choose cute names, others choose funny names. The name choice is really up to you and your family. Labradoodles are dogs that are sociable, active, playful and affectionate so many owners choose a name that fits well with their attributes.
The less syllables in the name, the easier it will be to pronounce especially if you end up having children down the road.
How do I Choose the Right Name for my Puppy?
Many owners decide on a name that reflects the attributes or personality of the dog. For example, if your Labradoodle puppy is all black you may decide to call him 'Shadow'. While many owners name their dog after their appearance, if you choose an appearance name, be sure this aspect won't change as your dog grows. 'Fuzzy' may be a great name for your puppy with thick fur, but what if her fuzz softens into hair?
If you wish to name your dog based upon his personality observe him for a few days before deciding on a name. For instance, you may notice your dog loves to be the center of attention, therefor 'Kingston' would be a much more fitting name compared to 'Cookie'.
Remember that the name you choose for your puppy you will be repeating for the next 10 to 20 years. Short and sweet names are easy for family and friends to remember along with your dog. Owners often like to choose short names that end in a vowel such as 'Pepsi' or 'Kobe'. Choosing a long and complicated name that includes more than one word will confuse your dog.
Once you have decided on a name for your Labradoodle puppy, call to them using it so that they become familiar with their name from a young age. After a couple of days of being familiarized with their name, you may notice your Labradoodle responding to it.
Labradoodle Names to Avoid
When choosing a name for your Labradoodle it is best to avoid names that sound like a command. Such as 'Bow' as it is very close to the word 'No'. Always choose a name that can be easily pronounced by all family members and that is appropriate to pronounce in public places.
Labradoodle Naming Characteristics
If you are looking to find a name that is based upon your Labradoodles qualities or characteristics here are some name basing ideas:
Based on Coat Color
Name based on the Gender of the puppy
Personality name
Name based on the History of the Breed 
Cute/Adorable based name
Name based on another Canine Celebrity 
Shortlisting your Labradoodle Puppy Names
Shortlisting your favorite names will allow you to compare each to your puppy dog. Even calling each name out to your puppy and seeing which is most fitting can help you decide on the perfect name. Furthermore, asking for the opinion of friends and family members can help you decide between a couple of your short listed names.
Labradoodle Names Based on Color
Black Labradoodle Names
If your Labradoodle puppy is all black in coloring you may find one the following names suit him or her best.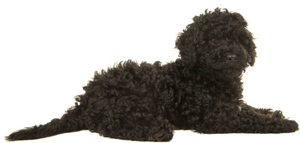 Ash
Chestnut
Coal
Comet
Eclipse
Fudge
Inky
Jasper
Jet
Luna
Magic
Midnight
Olive
Panther
Pepsi
Shadow
Smokey
Twilight
Brown/Chocolate Labradoodle Names
Brown Labradoodles are often the first buyers pick from a litter. If you are lucky enough to be bringing a brown or chocolate Labradoodle home, one of the following names may be fitting.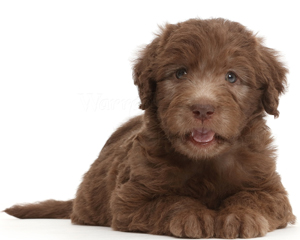 Bambi
Bear
Brandy
Brownie
Chestnut
Coco
Hazel
Fudge
Latte
Milo
Mocha
Nutmeg
Peanut
Pretzel
Rolo
White/Cream Labradoodle Names
There are many dog names that are perfect for a Labradoodle with white fur or hair. We've compiled the top cream Labradoodle names below.

Blizzard
Casper
Cloud
Cookie
Cotton
Crystal
Goldie
Ice
Lacy
Opal
Pearl
Sky
Snow
Sugar
Sunny
Winter
Apricot/Red Labradoodle Names
Warning: Below you may fall in love with the perfect name for your apricot or red Labradoodle puppy.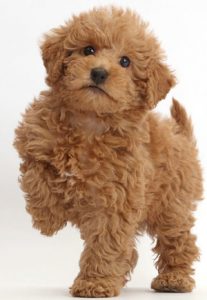 Amber
Autumn
Butter
Butterscotch
Caramel
Dusty
Ember
Ginger
Jaffa
Maple
Poppy
Red
Sunny
Toffee
Ruby
Rusty
Multi-Colored Labradoodle Names
Whether your puppy appears to be wearing socks, or has blotches of different colors, one of the names below may be the perfect fit!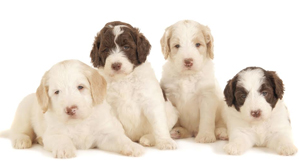 Oreo
Panda
Scruffy
Socks/Sox
Spot
Fur Based Labradoodle Names
If you believe your puppies furry, fluffy or straight coat will stay with them to adulthood, one of the names below may match your puppy perfectly.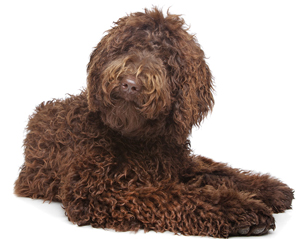 Bear
Bunny
Cotton
Fluffy
Fox
Fuzzy
Shaggy
Snowball
Snuggles
Teddy
Adorable Labradoodle Names
Is your puppy a 'Blossom' or a 'Teddy'? Below we've collected some of the most adorable names fitting for a Labradoodle.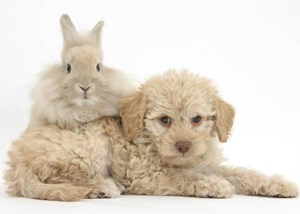 Archie
Arthur
Audrey
Bean
Bear
Billy
Bingo
Buddy
Blossom
Bodhi
Bruno
Cookie
Dumpling
Fox
Frank
Frankie
George
Hunny
Kobe
Leo
Loki
London
Louie
Memphis
Oscar
Paws
Peaches
Poppy
Prince
Pumpkin
Scout
Soda
Sully
Teddy
Tiger
Wags
Winnie
Popular Labradoodle Names
Have you heard of a dog named 'Buster'? Below you can find some classic Labradoodle names that many owners choose from.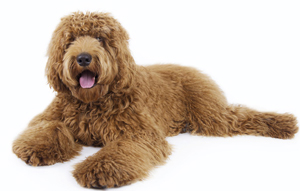 Angel
Axel
Bailey
Bella
Bonnie
Boots
Buddy
Buster
Buttercup
Byron
Chase
Chance
Charlie
Chief
Cooper
Doodle
Fletcher
Jack
Jax
Juno
Lucy
Lulu
Max
Missy
Molly
Oliver
Rex
Rosie
Rover
Ruby
Scruffy
Star
Toby
Roxie
Unique Labradoodle Names
Looking to pick a name that stands out in a crowd? Take a read of our unique Labradoodle names below.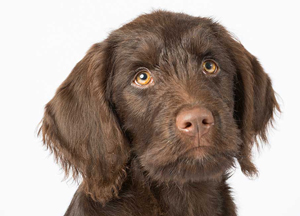 Ace
Alfie
Calvin
Chaos
Cleo
Clover
Duke
Ember
Felix
Huxley
Jagger
Kingston
Oakley
Otto
Pickles
Pixie
Pluto
River
Rocket
Winston
Zeus
Ziggy
Celebrity/Character Labradoodle Names
Do you love a certain movie character? Or does your dog remind you of someone famous?
Why not choose a celebrity or character Labradoodle name from the list below.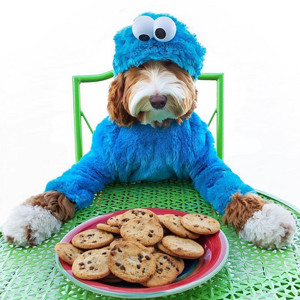 Alice (Alice in Wonderland)
Atticus (To Kill a Mocking Bird)
Blinky (Blinky Bill)
Bolt (Bolt)
Boo (Monsters Ink)
Buzz (Toy Story)
Cindy Lou (Dr Seuss)
Gatsby (The Great Gatsby)
Lady (Lady and the Tramp)
Lucky (The 101 Dalmatians)
Marley (Marley and Me)
Pipi (Pipi Long Stockings)
Romeo (Romeo and Juliet)
Scooby (Scooby Doo)
Simba (Lion King)
Stitch (Lilo and Stitch)
Tigger (Winnie the Pooh)
Thumper (Disney)
Toto (The Wonderful Wizard of Oz)
Woody (Toy Story)
Got Name Ideas?
We'd love to hear from you. How did you decide on the perfect name for your Labradoodle?
Whether your Labradoodles name is cute, comical or classic we'd love for you to share it in the comments below.
Are you deciding whether a Labradoodle puppy is the right choice for your family? Take a look at our Complete Breed Overview.