Often people believe the Labradoodle and the Goldendoodle are the same breed. Some believe a Goldendoodle is another name for a Labradoodle as their coats are often golden in color.  A Labradoodle and a Goldendoodle are two different mix breed dogs.
When comparing a Goldendoodle with a Labradoodle the most significant difference is the mix that creates their breed. A true Goldendoodle is a mix between a Golden Retriever and a Poodle, whereas a Labradoodle is a mix between a Labrador and a Poodle. Both these breeds share a Poodle mix and the fact they both have retriever traits as a common ground. Although very similar, there are slight differences between these two breeds. This article will help you understand which breed will be the best fit for you and your family.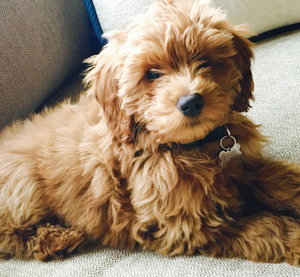 Overview of the  Miniature Labradoodle versus the Miniature Goldendoodle
The following table outlines the main similarities and differences between the miniature Labradoodle and the miniature Goldendoodle. Below you can find the average weight, average height, life expectancy and pricing of each of the breeds.

Attributes of the Miniature Goldendoodle
Low maintenance and low shedding coat
Can be easily trained
A good family dog that is friendly and energetic
A sociable dog that enjoys pleasing people
Hypoallergenic making them suitable to most allergy sufferers
Can adapt to most climates
Affectionate dogs that love being around their owners
A small to medium sized dog
Water repellent coat
Attributes of the Miniature Labradoodle
Loyal and intelligent dogs
Have the ability to be trained to assist with services such as guiding the blind
Playful dogs that make great family pets
A high energy dog that needs regular exercise
Low shedding dog with hypoallergenic qualities
Easily adapt to other animals
Good temperament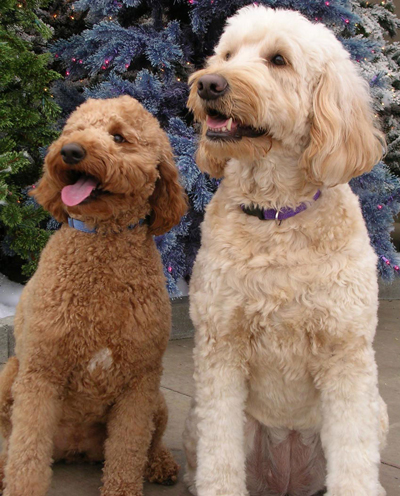 Maintenance and Shedding
Both these breeds are classed as low maintenance. These dogs have hypoallergenic qualities and have a low shedding coat. The Goldendoodle's coat tends to be longer while the Labradoodles are shorter and have less wave to them. Due to the length of the Goldendoodle's coat, they will need to be groomed more often in comparison to a Labradoodle. It is recommended that a Goldendoodle is groomed by their owners everyday and at a minimum of once a week.
Appearance
The color range of a Labradoodle is more extensive than a Goldendoodle. The Goldendoodles coat tends to be curlier whereas the Labradoodle's coat tends to be more terrier like; wiry and short.
A Labradoodle can be any of the following colors depending on their genetics:
Chocolate
Brown
Red
Appricot
Cream
Silver
Black
White
A mix in color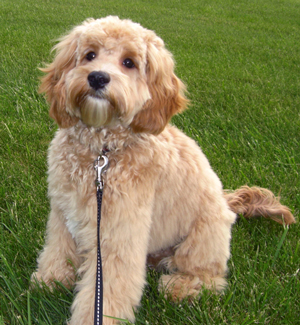 A Goldendoodle's color range tends to be a lot less. A Goldendoodle's fur can be any of the following colors:
Golden
Cream
Apricot
Red
Brown
As far as eye color goes, a Goldendoodle can have either brown or amber eyes. These dogs have a medium length coat that are relatively thick and wavy.
Training
When choosing a dog that you wish to train to be used in a service such as a seeing eye dog, the Labradoodle is the best choice. If you wish to train your dog to visit young children or the elderly regularly the Goldendoodle is a better choice. In saying this, both of these breeds are easy to train due to their intelligent nature.
Nature
Before deciding on a dog breed it is important to research their nature to ensure that their expected temperament will fit into your family. Due to the fact both miniature Labradoodles and miniature Goldendoodles are hybrid dogs (meaning a mix of more than one purebred dog) you can only make an educated guess on what their temperament will be like. In the cases of these two dog breeds, their parents all share similar natures allowing us to make an educated guess of the dog's personality.
The miniature poodle makes up one parent in both of these mix breeds. Miniature poodles enjoy being active including walking, running and they also enjoy swimming. Often people believe Poodles are snappy dogs although this is easily preventable through socialization. The Labradoodle's Labrador parent enjoys retrieving games and being active while the Goldendoodle's Golden Retriever parent can be classed as tolerant, intelligent and a lover of any sport.
Both breeds are well tempered and make great family pets. The difference is the Goldendoodles appear to be more energetic when it comes to games such as fetch. A Labradoodle is more inclined to investigate a person before approaching them, whereas a Goldendoodle is a lover of everyone and won't hesitate to run and cuddle a stranger. Both these dog breeds are overly friendly and have a kind nature.
Out of the two breeds, the Labradoodles tend to be the more protective dogs. Although neither of these dogs would work to guard your home, they will watch and bark if needed. These dogs breeds are equally recommended for a new dog owner.
Both breeds are classed as high energy dogs meaning they need regular exercise. Being highly intelligent dogs, little to no exercise triggers behavioural issues. These are not a lap dog and are not suited to people who are not willing to take them on walks.
Size
Adult Miniature Labradoodle
Classed as a small to medium sized dog breed
These dogs on average are 14 to 16 inches tall measured at the shoulder although can reach 24 inches tall depending on genetics
The miniature Labradoodle generally weighs between 15 to 25 pounds although this can vary
Adult Miniature Goldendoodle
Classed as a small to medium sized dog breed
The miniature Goldendoodle measures between 16 to 19 inches tall
This breed can weigh between 20 to 30 pounds
The Goldendoodle is the slightly larger breed out of the two. It is important to understand each mixed breed dog will vary in size depending on how big or small their parents were.
Average Height Chart of the Miniature Labradoodle and Miniature Goldendoodle
The following graph shows the height of each miniature breed in comparison to the average height of a human.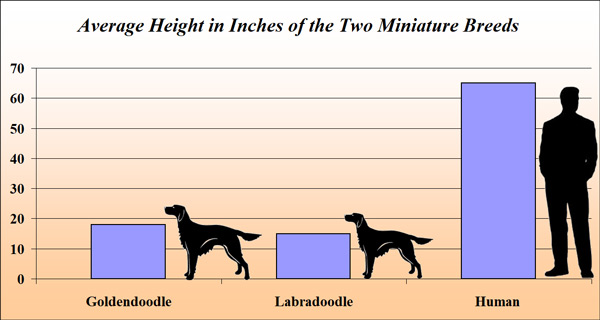 Price
Both the Labradoodle and Goldendoodle are priced upwards of $1000 with some puppies priced at $2500 from reputable breeders. This can vary between breeder. The price of these dogs has risen with the high demand in the current market. Both these breeds are often similar in price.
Life Expectancy and Health
On average, mix breed dogs live longer than purebred dogs. A Labradoodle and a Goldendoodle both have a life span of between ten to fourteen years.
Both these dogs, like any breeds have the risk of getting a specific health condition. For the Labradoodle, the common health risks are skin irritations, hip dysplasia and allergies. The Goldendoodle is more prone to getting hip dysplasia, cataracts, allergies and epilepsy. It is important to understand that not all of these dogs will be victim to a health condition and most live to a prime age free of any health concerns.