Surprisingly almost 15% of the population suffer from animal related allergies. Amongst pet related allergies, dogs and cats are the main source.
Defining a Pet Allergy
People who have an allergy to animals experience an allergic reaction when coming in contact/or close vicinity with a protein found in an animals skin cells, their saliva or urine. Although a pets fur can be directly related to an animal allergy, the common cause of the allergic reaction comes from the dander (flakes of dead skin) the animal sheds.
Some common signs that one has a pet allergy include (although are not limited to) the following: sneezing, running nose, hay fever, wheezing, difficulty breathing, eczema and asthma. Many people who know they are allergic or intolerant to pets, opt for a hypoallergenic cat or dog breed.
Hypoallergenic Dog Breeds
Hypoallergenic dog breeds, refer to certain dogs that can be tolerated by owners that have allergies. Although these breeds are not 100% allergy free, the majority of people who suffer from pet related allergies are able to own one with no trouble. There is a variety of dog breeds that offer hypoallergenic quality's due to their non-shedding coats. Many families with young children decide on a hypoallergenic dog as a precaution factor. There would be nothing worse than your children being allergic to the pet they have grown attached to.
Fact: The less fur that a dog breed sheds, the less dander. The majority of people with dog allergy's are allergic to dander, not the dog's fur. 
Some popular hypoallergenic dog breeds include Poodles, Bichon Frise, Labradoodles, Maltese, Chinese Crested, Yorkshire Terriers and Schnauzers.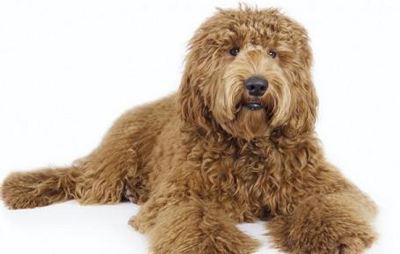 Labradoodles- A Popular Breed for Allergy Suffers
The Labradoodle, a cross between a Labrador and a Poodle makes an ideal pet for an allergy sufferer. First bred for a woman who needed a seeing eye dog but also one that did not affect her allergies, the Labradoodle is classed as a hypoallergenic breed. Although we cannot guarantee that you will not have any allergy symptoms after being exposed to a Labradoodle, the hypoallergenic qualities they possess suggest the likelihood of an allergic reaction is far less in comparison to a non-hypoallergenic dog breed.
Hypoallergenic Qualities Depending on the Generation
Depending on how far down the breeding line the Labradoodle is has a direct link to the anti-allergy qualities they posses.
First Generation Labradoodle
A true Labrador Poodle mix that produces two significantly different coat textures. A first generation Labradoodle can have either a flat coat or a fleece coat. One coat feels wiry (flat coat) while the other feels softer (fleece coat). At birth it cannot be distinguished what coat the first generation Labradoodle will have as an adult.
First Generation Labradoodles are not recommended for allergy sufferers. 
Second Generation Labradoodle
A second generation Labradoodle, is a mix between a fix generation Labradoodle and a pure bred Poodle. These Labradoodles have around a 50% chance of having an allergy proof coat.
A suitable choice for an allergy sufferer. 
Third Generation + Labradoodle
A third generation Labradoodle is a mix between two second generation Labradoodles. These dogs have the best non-shedding qualities, especially if the majority of their family has also had a non-shedding coat. In terms of a third and fourth generation puppy, you can be fairly sure they will have a non-shedding coat.
The best choice for an allergy sufferer. 
Why do Allergy Suffers Choose a Labradoodle?
Although there are many allergy friendly dogs available in today's society, Labradoodles remain consistently popular. Below we have listed some qualities that make Labradoodles such a popular choice:
Non-shedding/low-shedding coat
Intelligent breed that generally gets along with other dogs
Due to their intelligent nature, they are easy to train
Medium to standard in size
Family pets that are patient with children
A breed that is empathetic to emotion
Suggestions for Allergy Suffers
Before rushing out and purchasing a Labradoodle ensure you do your research. If you know you suffer from a dog allergy we recommend that you expose yourself to this breed for a couple of weeks prior to purchasing a Labradoodle of your own. After visiting a Labradoodle multiple times assess how you are feeling. If you feel that no allergy symptoms are present you should be fine to make one your own.
After you purchase a Labradoodle to decrease the likelihood of them affecting your allergies, have them groomed frequently and ensure they are bathed each week. It is also recommended to have medication on hand if your allergy spikes.
Facts About Allergies and Labradoodles
Australian Labradoodles have a 99% hypoallergenic success rate
Labradoodles are considered a low-dander dog breed