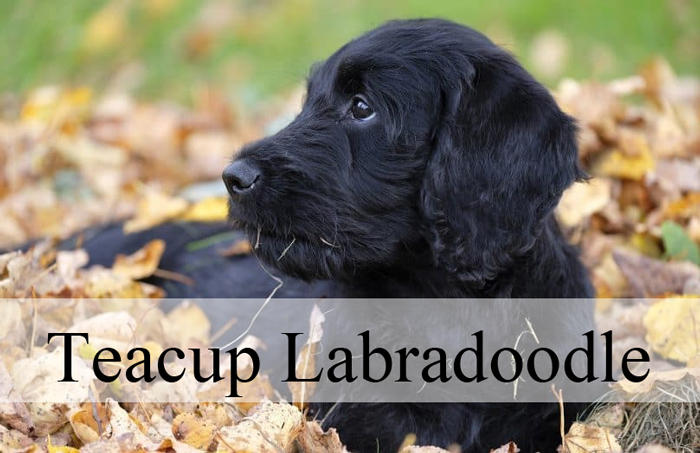 Teacup, toy or miniature; they all refer to the same Labradoodle size category. While many breeders define these dogs as miniature Labradoodles, you may have heard a friend or family member refer to their puppy or dog as a Toy or Teacup Labradoodle. While miniature, toy and teacup are all words associated with hand-bag sized dogs, unfortunately this will never be the case for any Labradoodle adult. The smallest of the breed, will still measure 14 to 16 inches (35 – 40 cm) at the shoulders, which in my opinion compared to breeds such as Chihuahuas is not small. In terms of the weight of a teacup Labradoodle, you can expect your dog to weigh between 15 to 25 pounds (7 to 13 kilos). In saying that, Labradoodles while not being the smallest breed to pick from are one of the most loving, sociable, hypoallergenic and family orientated dogs. They always have a willingness to please their owner in no matter what it is they do. While this breed will not make the most suitable selection for all prospective owners, Teacup Labradoodles will suit those who love the personality and look of Labradoodles although are looking for a small to medium sized dog breed.
Why Are Teacup (Miniature) Labradoodle's Popular?
If you've visited the dog park recently, you may have noticed an increasing number of Labradoodles. If you have never asked the owner what breed of dog they owned, Labradoodles can be distinguished by their lovable nature, spring to the step and either fluffy or curly coats. In terms of Labradoodle sizing, there are three different sized dogs which include the miniature, medium and standard. The size of the Labradoodle is determined by what kind of Poodle the Labrador is bred with.
For families where one or multiple members have allergies, Labradoodles make a suitable hypoallergenic dog. Due to the Poodle within the mix, their coats tend to agree more with those with allergies compared to other dog breeds. This is just one of the many reasons this breed is steadily increasing in popularity.
While the standard sized Labradoodle has been a family favorite over the last couple of decades, once the Teacup (miniature) Labradoodle was introduced, many sought out miniature Labradoodle breeder in the hopes for the same lovable dogs, only smaller. With a decrease in land sizes and more housing in estates, many cannot home a large dog breed. A small or medium dog breed such as the teacup Labradoodle in turn becomes preferable.
Differing Names for a Miniature Labradoodle
While there may be differing names for the smallest sized dogs within the Labradoodle breed, do not be confused. All of these are still a cross breed between a Toy Poodle and a Labrador Retriever.
Toy Labradoodle
Teacup Labradoodle
Mini Labradoodle
The notable size difference between a Teacup (miniature) Labradoodle and a Standard Labradoodle is represented in the image to the right.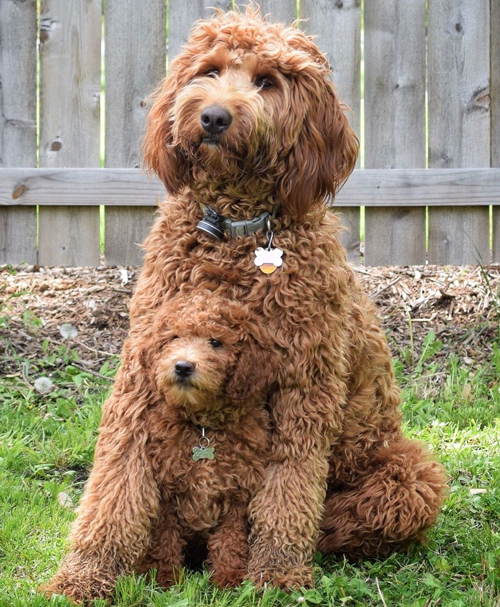 Facts About the Teacup Labradoodle
Some of the facts about teacup Labradoodles are more obvious than others. Many of these same facts relate to all three of the Labradoodle sizes.
Did you know?

Teacup Labradoodles are:
Energetic, intelligent and can be obedient if the correct training is put in place from day one.
Available in multiple block colors and patterns.
Labradoodles can come in a variety of colors including white, silver, brown, black, chocolate, cream and golden. A color or pattern of a Labradoodle puppy can increase the asking price as certain colored coats are sought out by those with the intent to breed certain blood lines.
Somewhat hypoallergenic.
While not all Teacup Labradoodles are hypoallergenic, the majority of those bred down the blood line are. Labradoodles who have two Labradoodle parents are much more likely to have low shedding, allergy friendly coats opposed to those puppy's with one Poodle and one Labrador parent.
A Cross Breed Dog.
While cross breed dogs were once frowned upon, in recent years it has been found that cross breed dogs in many cases out live pure bred dogs and can have kinder natures.
A fairly new breed.
Miniature (Teacup) Labradoodles were first bred in 1988 after their cousins the standard Labradoodles were introduced in the early 1970's.
An excellent choice for families.
Due to the nature of teacup Labradoodles, they make the perfect family dogs. Of course like any breed, you will need to socialize them to ensure they do not display any aggressive behavior.
Owned by many celebrities such as Tiger Woods and Jennifer Aniston.
What Health Issues Affect the Teacup Labradoodle?
The last thing you want to do when selecting a breed of dog, is to fall in love with one that is prone to many health concerns. While the teacup Labradoodle is not entirely in the clear, the good news is, any of the health concerns they can potentially fall ill with are not life threatening. When speaking about Labradoodle health concerns, this breed in particular is more prone to:
Hip Dysplasia: This health problem is hereditary and is displayed as a limping Labradoodle with pain in the back legs. This is more commonly seen in the larger Labradoodles and can be avoided by purchasing a puppy that comes genetically tested.
Progressive Retinal Atrophy: This is an eye disease that Labradoodles are more prone to. If this is left untreated the possibility of sight loss or night sight loss is the result.
Diabetes Mellitus: A Labradoodle eating more food although not gaining weight may be suffering from Diabetes Mellitus. If you find that your dog has this, regular insulin may be needed.
While a teacup Labradoodle may be prone to a handful of diseases, more times than not, they are hereditary. This means purchasing a Labradoodle from a reputable breeder ensures that the dog is free from hereditary health concerns.
Teacup Labradoodle Bedding
Like many breeds, teacup (miniature) Labradoodles are notorious chewers. This means that when you are selecting bedding, while the soft cushioned beds may look attractive, the chances are your Labradoodle will have these ripped to shreds in a matter of weeks. The older a Labradoodle is, the less they tend to chew, so this means fluff filled bedding may be appropriate for teacup Labradoodles that are a couple of years old although we definitely do not recommend one for a Labradoodle puppy.
When choosing bedding for your Teacup Labradoodle you will need to consider:
The material that the bedding is made from.
As mentioned above, chew resistant or chew proof bedding is the most suitable for a Labradoodle.
The size of the bed.
Don't forget even though people may refer to them as 'teacup' Labradoodles, they can still grow to 30 pounds. Make sure the bed you choose can support their weight range.
Your Labradoodles health needs.
If you have a Labradoodle that suffers from arthritis you may need to select a bed that is up off the cold ground.
2 Beds Ideal for the Teacup Labradoodle Breed
---
If you are looking for a dog bed for your teacup Labradoodle, look no further than the Sealy Chew Resistant Memory Foam Bed. This dog bed is machine washable, chew resistant to prevent puppies from spilling the cushioning and waterproof. This bed in no slip when put on wooden flooring and is low enough to the ground that even the smallest teacup Labradoodle puppies have no trouble curling up in the bed. If you are purchasing a pet bed for one teacup Labradoodle, you may opt to purchase the medium size or if you feel as though two dogs you own will be happy to share, the X-Large bed may be a better investment.
Sizes Available: X-small, small, medium, large and X-large.
---
If you prefer to house your teacup Labradoodle outdoors, an elevated pet bed is the best option to avoid the bed getting damp during the night. Made from nylon, this elevated pet bed by K&H Pet Products is waterproof and resistant from mold and bacteria. Boasting durability, ease of construction and a 1 year warranty, you can't go past this elevated pet bed for your littlest fury friend.
This bed comes in small, medium and large with the medium size being the most appropriate for teacup Labradoodles.
---
Leads and Harnesses Suitable for a Teacup / Miniature Labradoodle
Whether you have purchased a miniature (teacup), medium or standard sized Labradoodle, they are all strong dogs that better suit a harness opposed to a collar and lead. For smaller cross dogs such as a Maltese, a collar and lead tends to be enough although for larger and strong breeds, like the Labradoodle, harnesses are much more popular. When selecting a harness for your teacup Labradoodle, you will need to consider:
The Durability of the Harness.
Labradoodles are a strong dog breed therefor a harness made from denim, nylon or canvas is your best selection.
How Comfortable the Harness Is.
The harness should be soft yet firm to touch.
The Cost of the Harness.
Sometimes spending a tad more on a better quality harness can save you money in the long term. Purchasing a harness from a reputable dog company will ensure the harness has been tested for a number of different factors such as comfort.
The Size of the Harness.
An adult teacup Labradoodle will weigh between 15 to 30 pounds. It is important to select a harness that can be adjusted as the dog grows.
3 Harnesses Ideal for Teacup/Miniature Labradoodles
---
Puppia Teacup Labradoodle Harness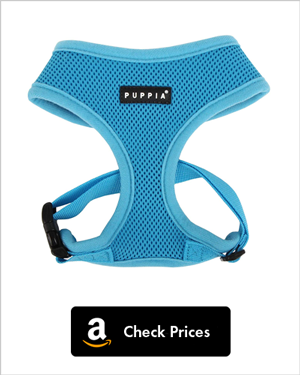 Puppia is one of the most recognized dog harness companies, who design their harnesses entirely from polyester. Puppia harness are adjustable allowing them to grow with the dog and save the owner the hassle and money of needing to purchase differing sized leashes throughout the dogs life. Puppia harnesses can be machine washed with the X Large size being the most appropriate for teacup Labradoodles. Many have commented saying that these Puppia harnesses run small, so always measure you dog prior to purchasing one.
Range of Colors Available: Beige, black, brown, camo, green, navy, orange, pink, purple, red, royal blue, sky blue, wine and yellow.
---
Designed from breathable mesh, the Voyager harness is a match for teacup Labradoodles. This is a step harness that is hassle free and has a double security Velcro and clip finish. Voyager leashes are designed to last and withstand strong and robust breeds such as the Labradoodle. The Voyager dog harness comes equip with reflective bands for night time visibility and two double 'D' rings for a more secure leash attachment. Depending on the size of your teacup Labradoodle, you will either need to purchase a Large or Extra Large Voyager harness.
Range of Colors Available: Army, baby blue, black, blue,blue base, fuchsia, grey, lime green, orange, pink, pink base, purple, red, red base, turquoise and yellow.
---
Gooby harnesses are designed for smaller breed dogs, with the largest harness within the Gooby collection being the ideal fit for a teacup Labradoodle. The 'extra large' size Gooby harness aims to fit dogs between 20 to 30 pounds which covers most of the size range of teacup Labradoodles. These harness are light weight, designed with mesh to ensure the dog does not overheat and is durable for even Labradoodles. Gooby harnesses have a choke free patented design to ensure the dog is not restricted in any way when they are wearing the harness. Using a harness opposed to a leash gives an owner more control when out in public and does not put pressure around a dogs throat.
Range of Colors Available: Black, blue, green, pink, purple and red.
---
Are you Looking to Purchase a Teacup Labradoodle and Wanting to Know More About the Breed?

Below we've compiled a number of useful resources about the Labradoodle breed for your reference. The Teacup Labradoodle shares the same coat, temperament and personality as the standard Labradoodle, the only difference is their smaller sizing.