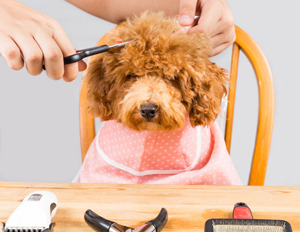 Grooming your labradoodle is essential for having a healthy and happy pooch. Your dog's coat, along with where you live, will have the largest influence on how you go about grooming your labradoodle.
How Often Should You Groom Your Labradoodle?
As labradoodles are a cross breed of labrador and poodle (with some dogs also containing Irish Water Spaniel and/or Soft-coated Wheaten Terrier), you may have a Fleece, Wool or a Straight Hair Coat Labradoodle on your hands. This means that no two labradoodles have the exact same coat, and predicting how their coat will develop can be rather hard to do.
For this reason you will need to tailor their grooming routines around their coat type, lifestyle, and the environment that they live in.
Bathing
Labradoodles have naturally dirt resistant coats. Some people even consider it to be a miracle coat, as their dirt covered dog can suddenly be clean again, all on its own.
If your dog has gotten into the mud, you don't have to give them a bath. Rinse them off with a hose and lukewarm water instead. Wash away as much of the large clumps of dirt and mud as possible. If you leave them inside to dry, they wont get into anymore dirt, and as the mud dries out it can simply be brushed out of the coat.
If your dog has rolled in something smelly, or if they are starting to get that doggy smell about them, then you can give them a bath. A dogs skin is more sensitive then our own, and over bathing can cause their skin to dry out and get scaly, leading to skin conditions. Using an oatmeal and coconut based shampoo formulated for dogs, is a far better option then using shampoo made for humans.

The Regular Brushing
Grooming your dog from a young age is very important, as puppies are more compliant and accepting of new experiences. Dogs that have grown up receiving regular brushes, come to enjoy the sensation. If done correctly, it's like giving them a massage and pat in a single stroke.
To a mature dog that has had little to no experience with brushes, may not be as willing to try them. It is a strange sensation that they are not familiar with, and it can freak them out at first.
By giving your labradoodle a daily brush, or at least 2-3 times a week, you are able to remove loose hair, untangle knots and remove matted hair. It also has the added benefit of making their coats more soft and shiny, removes dirt and debris, and helps to build a stronger bond between you and your pet. Make sure to check for mats on their chest, under the neck and armpits, behind the ears and between the toes.
Over brushing can make their coats puffy and frizzy. It is best to use their coats as a guild to determine how often you should be brushing them:
Straight Hairs – shed a lot more then any other labradoodle. Brushing them regularly removes the loose hair, lessening how much they shed.
Fleece Coats – have curly fur that can easily become matted. Regular brushes helps to prevent matting and removes and clumps.
Wool Coats – benefit from regular brushes, it helps to keep their coat fluffy and soft, and helps to prevent matting and knotting of their fur.
Slicker Brushes
These brushes are used for general brushing. They remove loose hair, smooth out the coat, and can remove and prevent knots and mats:
Hertzko Double Sided Flexible Slicker Brush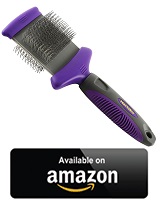 The perfect brush to get all the nasty mats out of your labradoodle's fur.
Hertzko's Flexible Double Sided slicker brush gently removes loose hair, and eliminates tangles, knots, dander and trapped dirt.
The Flexible Head allows the brush to contour on your pet's skin, making brushing your pet a more comfortable and pleasant experience.
HappyDogz Pro Slicker Brush for Dogs and Cats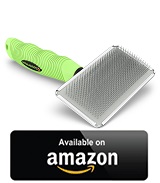 Gentle Bristles – The special bristles are comfy for your dog, but firm enough to get out the toughest tangles and mats.
Ergonomic Durable Design – Effortlessly removes debris, mats and dead hair from your pet's coat.
Ideal for all Dogs – Including thin and thick coats or sensitive skin.
The Pet Portal Self Cleaning Slicker Brush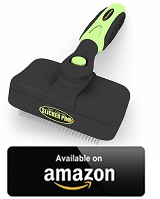 Perfect for both your long haired or short haired dogs and puppies.
The pet slicker brush effectively removes mats, tangles, dirt, and loose fur from your pet's coats with minimal effort.
Clever self cleaning feature only takes around 5 seconds to clean.
Grooming Rakes
Racks are ideal for removing stubborn and tightly formed knots and mats. Unlike slicker brushes that have comb like bristles, racks have hook like edges, that are designed to easily remove dense clumps of fur easily.
GoPets Dematting Comb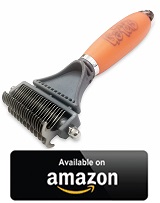 The double sided pet comb has a different number of teeth on each side.
One side is to remove stubborn matts and tangles.
The other side detangles, and helps control shedding, by thinning the undercoat.
The handle is a non-slip silicone gel filled handle that conforms to your hand no matter how you hold it.
Hertzko Mat Remover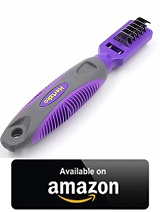 The Mat Remover Tool is especially manufactured with sharp small trappers, designed to trap and remove the mats, knots, and tangles.
Hertzko's Mat Remover removes loose hair, and eliminates tangles, knots, dander and trapped dirt.
Designed with sharp teeth which prevents pulling hairs and the fine curved ends, makes it safe on your pet's skin.
Cutting the Coat Shorter
A labradoodle's coat should never be shaved off. Their skin needs to be protected from the sun at all times, and their coat helps to keep their skin hydrated. We can however, trim their coats shorter, and remove hair from specific areas to make the dogs more comfortable.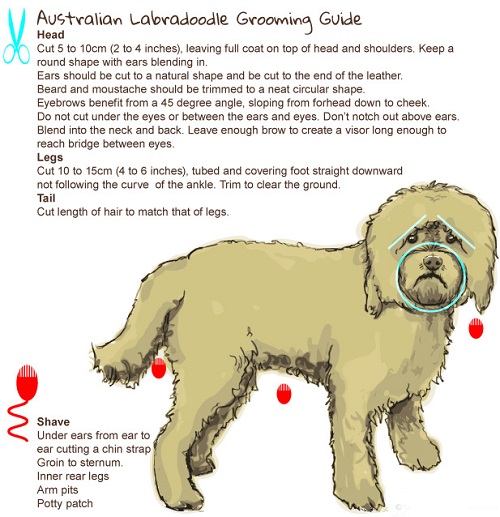 Where is it Safe to Shave a Labradoodle
The labradoodles fur can be shaved short along their undercarriage. This includes under their neck, from their groin to sternum, in their arm pits, and along the inner side of their rear legs and around their rump under the tail. These areas can be shaved as it can help to keep them clean and comfortable. It also helps to prevent matting of the fur, as there is more friction and exposure to debris and clumping materials.
Everywhere else their coat needs to be kept dense enough to protect their skin from the sun and other elements.
Tidy Up Around Their Face
It is advisable to trim the hair around their muzzle, being their beard and mustache. Not only will this look neater, it will also help them to eat and drink more easily.
Eyes and Eyebrows
Aside from presentation, the main reason for trimming the hair in the area of the face, is to both help the dog see better, and to help keep the hair out of their eyes. Trim away the hair that stands up along the muzzle, or hangs down across the eyes.
Keep the Ears Cleared
Ears need to be cleaned regularly. If there is hair covering the ear canal, or growing inside it, it can lead to a buildup of wax, muck, and bugs. Most long eared dogs don't get enough air flow under their ears, which can also lead to infections. Using tweezers, pluck out any hair from within the ear canal, and trim the hair around the ear, to help prevent the hair from finding its way into the ear canal.
Feet and Tail
Leave the fur around the feet and along tail. They can be trimmed, but ideally we wouldn't want to remove the protections that they offer. Check the tail and between the toes for any matted fur, and reduce the length if the fur is too long. Like the facial hair, the fur around the feet and along the tail offers protection against cuts and scraps, but can also become matted if left unchecked.
How Often Should you Cut Their Nails?
On average, a dog's nails need to be trimmed every six weeks. This does vary widely though, as an active dog that is out and about a lot more then a stay at home dog, will naturally wear down their nails. This doesn't mean that you don't need to check their nails regularly however, as an active dog is more likely to break a nail or get muck suck under them.
Grooming Supplies
RUBOLD Grooming Kit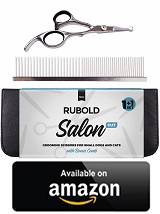 Adjustable scissor blades allow you to switch between cutting thinner or softer fur, and thicker and heavier pet hair.
Pack includes: 1 pair of straight rounded tip scissors, a cleaning cloth, a 6.5 inches straight grooming comb, and a stylish black carry case.
An ideal gift for both professional and amateur alike.
Master Grooming Tools Ergonomic Pro Nail Clippers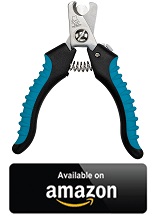 The perfect nail-clipping solution for both professional and amateur groomers.
Ultra sharp hardened steel cutting blades clip nails with ease
Safety guard to help prevent cutting the nail too deeply
Ergonomic design offers unmatched comfort and control
Wahl Home Pet Pro-Series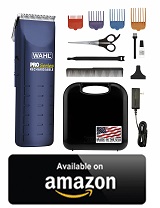 For fine, medium and double coat grooming: This pet grooming kit is great for small to medium dogs.
Wahl clippers and trimmers have been the trusted grooming products for professionals since 1919.
Contains self sharpening precision blades and quality construction.
The kit also includes an instructional DVD and color guide combs.
Wahl Professional Animal Touch Up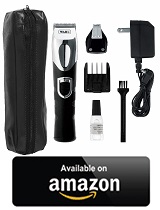 Wahls Touch Up trimmer is an easy to use cordless trimmer ideal for cleaning the face, ears, and paws of your dog, cat or smaller pet.
Provides 40 minutes of cordless operation and fits inside a small travel pouch excellent for touch ups and finish work on the go.
Includes 6 position attachment guide comb, charging cord, travel pouch, blade oil and cleaning brush.
Who Can Groom Your Labradoodle?
Some vets may offer a grooming service as part of their regular check ups. If you don't feel comfortable with some of the grooming procedures, you can also hire the services of professional dog groomers, or ask if your doggy daycare also offers the service.
Spending time with your pet, grooming them with daily brushes, helps to build a stronger bond with your dog. They love the attention and find the grooming process to be relaxing. While it is a good idea to better your skills and learn how to properly groom you furry companion. It is best to only do that which you feel comfortable doing. Consider taking a course that can teach you how to confidently groom your dog, who knows, you may even consider making a living out of it.