Are you looking for a good Labradoodle breeder?
Like you and me, labradoodle puppies also inherit many of their characteristics from their parents. Your puppy's temperament and how healthy he will be throughout his life mostly depends on the genes of his parents. That is why it is essential to find a good, responsible Labradoodle breeder.
Labradoodle pups are not cheap and can bring four-figure sums, breeding several litters a year it is a great business for some. So, it attracts a lot of unethical labradoodle breeders by the prospect of making a quick buck. A good Labradoodle breeder always checks the temperament and the health records of the parents and only breeds from the suitable stocks. There are many labradoodle breeders on the internet these days, and many of them are trustworthy and conscientious.
I would strongly recommend that you visit the breeder if possible rather than buying unseen online. There is so much variation with Labradoodles in terms of looks, coat, size, and whether they will cause allergies. You should always follow the guidelines and ask all the right questions before making this massive decision. If you are an allergy sufferer, then this is an absolute must as all allergic reactions can vary from one dog to another even within the same litter. Also, you should not put the puppy through the trauma of being shipped across states or even internationally. You should only do it under exceptional circumstances.
Buying a less expensive or unseen labradoodle puppy may save you money or hassle in the short term. But there is a danger of getting a poorly-bred dog. It can cost you a fortune in veterinary bills or dog training lessons in the long run. Not to mention the heartache of having a sickly dog. To avoid these, follow our Tips for Selecting a Good Labradoodle Breeder to find a good labradoodle breeder.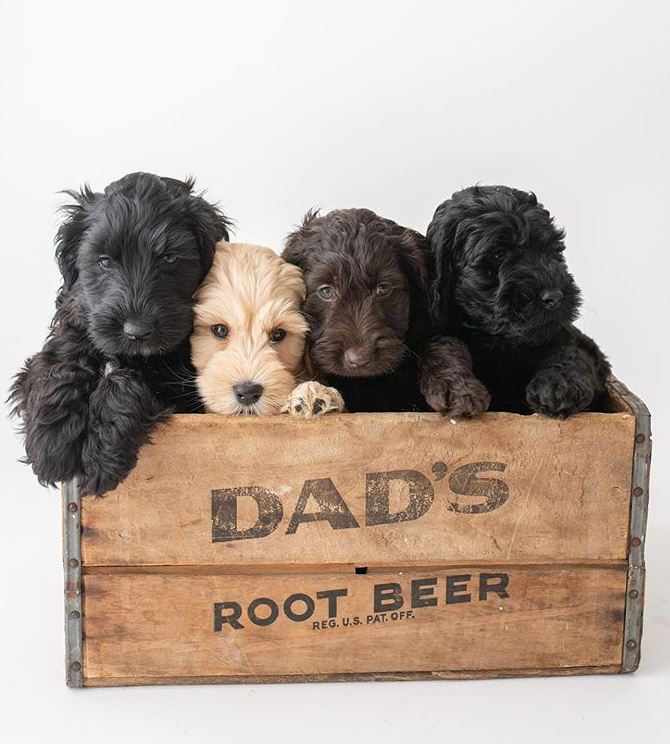 Where to Find The Reputable Labradoodle Breeders?
There are a lot of good labradoodle breeders who have the right Labradoodle puppy for you. But how do you find them? Everybody knows that you should get your puppy from a good breeder, but how can you tell the good guys from the bad guys? If you are looking for a pedigree (purebred), the Kennel Club in your country should be an excellent place to start. They have lists of approved breeders. However, as the Labradoodles are crossbreed, there are no Kennel club lists for them.
You might have a personal recommendation, or like the look of a friend's cute Labradoodle puppy and want to have one which looks the same. If that's the case, make sure you ask the breeder all the right questions of like how they select their breeding stock and ask for the parents' (the puppy's not the breeder's 😊) medical certificate for hips, elbow, and eyes.
Accredited Labradoodle Breeders Worldwide
Another great place to start looking for a good breeder is the breed association in your country. These organizations all have a list of accredited breeders.
Accredited Labradoodle Breeders in UK
UK Labradoodle Association
UK Australian Labradoodle Club Association
Accredited Labradoodle Breeders in USA
Australian Labradoodle Association of America
Australian Labradoodle Club of America
Accredited Labradoodle Breeders in Australia
The Australian Labradoodle Association
If the breeder that you are thinking of using is not on the list of one these associations, then ask yourself and the breeder – why not?
The Labradoodle associations only list the breeders with sound credentials. Who carry out all the necessary health testings on all their breeding stock, care, and love their dogs. They breed these puppies with integrity and from Australian Labradoodles with wonderful character and temperament.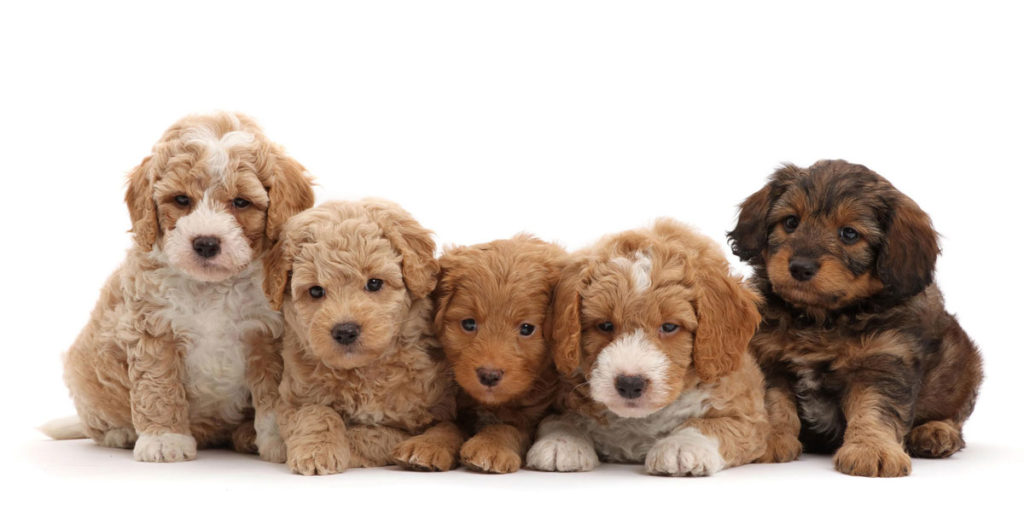 How to Choose the Right Labradoodle Breeder?
If you are not able to buy a puppy from one of these accredited breeders and you have never purchased a labradoodle puppy before, then how do you avoid buying one from a backstreet breeder or puppy mill? These people breed puppies for profit and sell them to the first person who turns up with the cash. These puppies can develop serious health problems due to poor breeding.
Good labradoodle breeders will only breed from dogs that are carefully selected for size, temperament, health, lineage, and possibly their coat. There are plenty of Labradoodle breeders out there, and it's just a question of finding a good labradoodle breeder near you. There are some signs that can help you to identify a good Labradoodle breeder.
Tips for Selecting a Good Labradoodle Breeder
Good breeders keep the dogs in the home and as part of the family – not outside in kennel runs. You should also make sure that the area where they keep the puppies is clean.
They have Labradoodles, which appear happy and healthy. The dogs are excited to meet new people and don't shy away from visitors.
A good dog breeder will encourage you to spend time with the puppy's parents or at least the pup's mother when you visit. They want your entire family to meet the puppy and are happy for you to make more than one visit.
Good breeders only breed one or a maximum of two types of dogs. They are very familiar with the 'breed standards,' even though the Labradoodle is a crossbreed.
Like purebreds, Labradoodles can have potential genetic weaknesses. A good breeder should explain these and should have documents to prove that both parents are free from any genetic defects such as hip dysplasia, elbow dysplasia, and eye problems like progressive retinal atrophy (PRA) and hereditary cataracts.
Responsible breeders should provide you with a contract and health guarantee and allow you plenty of time to read them. They will also show you records of the puppy's veterinary visits and explain what vaccinations he will need.
They guide you on caring and training for your puppy and are available for your assistance after you take your puppy home.
Good labradoodle breeders feed their dogs with high-quality dog food.
They don't always have puppies available but will keep a list of interested people for the next available litter.
Finally, a good Labradoodle breeder will provide references from other families who have bought their puppies. Make sure you call at least one.
Questions to Ask a Labradoodle Breeder
Have the parents been health screened? Ask for the original copies of the hip, elbow, and eye certificates.
Can you put me in touch with someone who already has one of your puppies? Follow up recommendations.
Are you a member of one of the Labradoodle associations or clubs, and are you listed as a recommended breeder?
How long have you been breeding Labradoodles? (You are looking for someone who has a proven track record ).
How many litters do your females produce a year? If they are producing more than a litter a year, the breeder may be running a 'puppy mill,' churning out cuddly pups for fast cash.
Do you breed any other type of dog? It's a good idea to buy your puppy from a Labradoodle specialist. Dog breeders who breed various types of dogs may be more interested in the income than improving the crossbreed.
What is so particular about this litter of puppies? You are looking for a breeder who uses good breeding to produce healthy dogs with excellent temperaments suited to family life. You may also be looking for one which is low-shedding and more allergy-friendly. There has not been a labradoodle pup born who wasn't gorgeous! Don't buy the first one you see. Be patient and pick the right one. If you don't get a satisfactory answer, consider looking elsewhere.
What do you feed your adults and puppies? They should be feeding their dogs quality dog food.
How big will my puppy grow? The answer will depend on whether your puppy is an F1 or multi-generation Labradoodle. An experienced breeder with proven stock should be able to give you a good idea of how big the adult dog will be.
If there is a health or temperament issue with the puppy, what guarantee do I have that I can return him or her? Check whether you will have a verbal agreement or a written contract. The latter is always better.
Summary
A good labradoodle breeder will also agree to take a puppy back within a specific time frame if it does not work out for you, or if there is a health problem. Happy, healthy puppies are what everybody wants. Taking the time now to find a responsible Labradoodle breeder is time well spent. It could save you a lot of time, money, and worry in the future and help to ensure that you and your chosen puppy are happy together for many years.