Labradoodle Coat Types
Proper grooming helps your labradoodle look and feel his best. Regular grooming sessions also allow you to examine his coat, teeth, eyes, ears, and nails for signs of problems. How much grooming your Doodle needs depends mostly on the type of coat he has. Labradoodles have three different types of coats and variations within these three.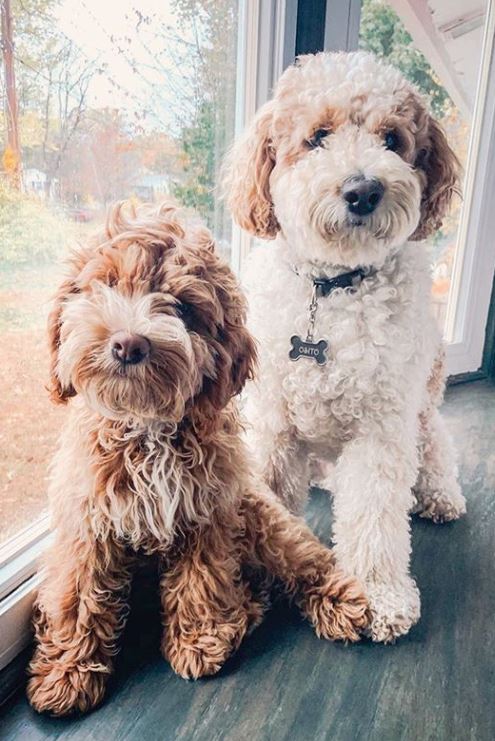 Hair Coat
Your dog will most likely shed if he has a hair coat that may be straight or wavy. But this is also the easiest coat of all to care for as your dog will naturally molt. You are more likely to get this type of coat from F1 Labradoodles, especially those puppies which take after their Labrador parent.
Wool and Fleece Coat
The other two coat types are wool and fleece, and both of these are low or minimal shedding types. Australian Labradoodles have one of these types of coats, as well as most other multi-generation Doodles. Although these dogs are likely to be low or minimal shedding, there is no guarantee that the dog will not shed. Labradoodle coat types vary from one dog to another, even within litters. It may also be that your Doodle sheds when it's a puppy but stops shedding when it becomes an adult – or vice versa.
Wool and fleece coats are high maintenance as far as grooming is concerned. You cannot just leave them unkempt and you will have to decide how short to keep your Doodle's coat. If you have experience, then you can clip or hand strip the dog yourself. Otherwise, you will need to take your Doodle to a professional groomer and factor in the additional expense. Whichever way you look at it, a well-groomed Doodle is a joy to behold. Here are some general grooming tips for Labradoodles to keep your 'man's best friend' in tip-top condition.
Grooming for Labradoodle – Ear Cleaning
Cleaning your Doodle's ears should be part of your regular at-home grooming schedule. Dogs' ear canals, particularly the hairy and narrow ones, are generally warm and moist, which makes them a haven for bacteria. It can lead to repetitive ear infections, and in severe cases, the dog can go deaf or require an operation to change the shape of his ear canal.
How to Pluck Your Doodle's Ear Hair?
If your dog is a low or minimal shedder, then the hair inside the ear flap should be regularly plucked. You can also do this at home or ask your groomer to do it during the visits. If you do pluck the hair yourself, don't overdo it. Keep an eye out for redness or inflammation of the ear flap or inner ear. You can also ask your groomer for tips.
How to Clean Your Doodle's Ears?
Some owners or a veterinary ear cleaner bathe the inner ears of the doodles with cotton wool and warm water. If your Doodle's ears have an unpleasant smell, if he scratches them a lot or they look red, then consult your vet. Simple routine ear cleaning won't clear up an infection, and ear infections are notoriously difficult to rid once the dog has one. Keeping your Labradoodle's ears clean and not too hairy is the best way to avoid infections starting in the first place.
Grooming for Labradoodle – Teeth cleaning
Veterinary studies show that by the age of three, 80% of dogs exhibit signs of gum disease. Symptoms include yellow and brown build-up of tartar along the gum line, inflamed gums, and persistent bad breath. You can give your dog a daily dental treat such as Dentastix to help keep his mouth and teeth clean, but you should also brush your Doodle's teeth as well.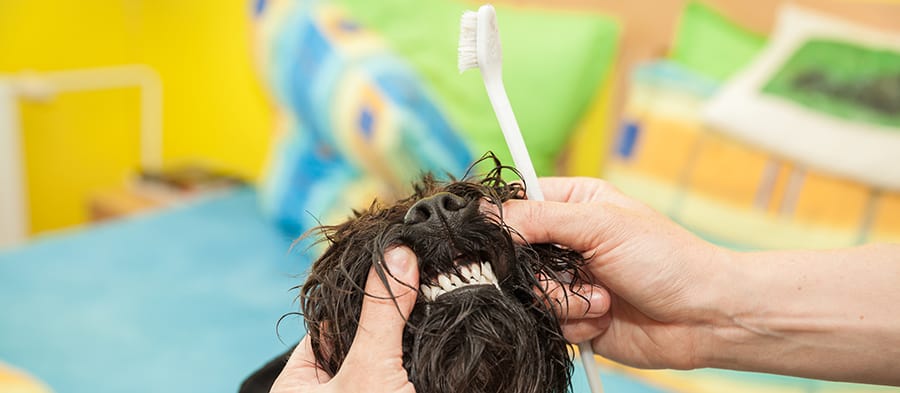 Brushing Your Doodle's Teeth at Home
It shouldn't be a chore, but a pleasant experience for both of you. Take things slowly in the beginning. Give him lots of praise, and your Doodle will start looking forward to his teeth brushing sessions.
1) Choose the Right Toothpaste
Use a pet toothpaste, as the human variety can upset a canine's stomach. Many have flavors that your Doodle will find tasty. The real benefit comes from the actual action of the brush on the teeth. There are various brushes, sponges, and pads that are available, but choose them according to the health of your dog's gums, the size of his mouth and how good you are at teeth cleaning!
2) Get Him Used to It
Get your dog used to the toothpaste by letting him lick some off your finger. If he doesn't like the flavor, then try a different one. Continue this until he looks forward to licking the paste. It can be instant or might take a few days. Put a small amount on your finger and then rub it gently on one of the big canine teeth at the front of his mouth.
3) Praise Him
Once he gets used to the toothbrush or dental sponge, praise him when he licks it and do this for several days. The next step is actually to start brushing! Encouragingly talk to your Doodle and praise him when you're finished.
4) Brushing Techniques
Lift his upper lip gently and place the brush at a 45º angle to the gum line. Then, gently move the brush backward and forward. Start with his front teeth only and then gradually do the bottom ones. You don't need to brush the inside of his teeth as his tongue keeps them relatively free of plaque. Labradoodles love games, and with a bit of encouragement and patience, brushing teeth can become a fun task for both of you.
Grooming for Labradoodle – Nail Trimming
The nails of your Doodle must be kept short for the paws to remain healthy. Long nails interfere with the dog's gait and make walking awkward or painful. They can also break easily, and this usually happens at the base of the nail, where blood vessels and nerves are located and will require a trip to the vet. If you can hear the nails clicking on the floor, then they are too long.
Trim Your Doodle's Nails with a Clipper
To trim your labradoodle's nails, use a specially designed clipper. Most have safety guards to prevent you from cutting the nails too short. You want to trim only the ends before the "quick" which is a blood vessel inside the nail. (You can see where the quick ends on a white nail, but not on a dark nail.) Clip only the hook-like part of the nail that turns down. Many dogs dislike having their nails trimmed.
You can make it a painless procedure by getting him used to having his paws handled when he is a puppy. Start trimming gently, a nail or two at a time, and your dog will learn that you're not going to hurt him. If you accidentally cut the quick, stop the bleeding with some styptic powder.
File Your Doodle's Nails
Another option is to file your doodle's nails with a nail grinder tool. Some dogs may have tough nails that are hard to trim, but this may be less stressful for your dog, with less chance of pain or bleeding.
If you find it impossible to clip your dog's nails, or you are worried about doing it wrong, then take him to a vet or a groomer.
Grooming for Labradoodle – Bathing
Many doodle owners ask the question, "How often should I bathe my labradoodle?" You should bath your doodle occasionally, but not frequently. Frequent bathing removes natural oils and causes the coat to become dry and harsh. Use a mild shampoo specially formulated for dogs. Stand your doodle in a tub, basin, or bath and put cotton balls in his ears to keep them dry inside.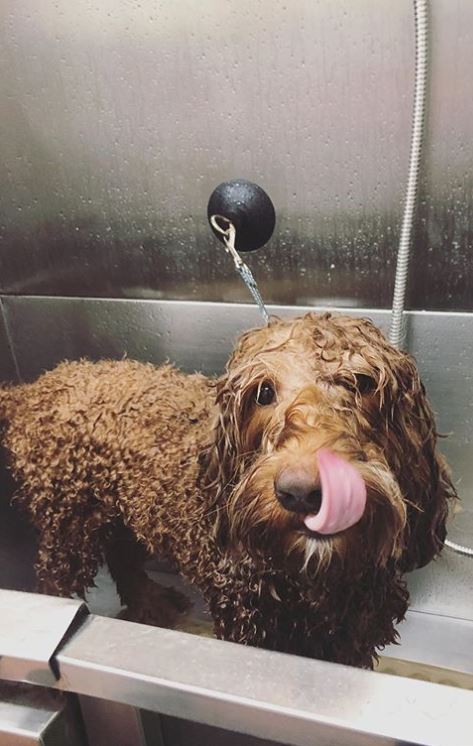 Wet him with warm water and apply shampoo from the neck down. Put a small amount of shampoo on your hands and gently wash his head. Make sure that you don't get any in his eyes. Rinse your doodle thoroughly with warm water. To keep the soap out of his eyes, put a dampened wash-cloth over his eye. Rub your doodle dry with a towel and then blow-dry if necessary (and if he lets you!). Then give him a brush or a comb.
Grooming for Labradoodle – Cleaning the eyes
If your dog has a discharge, if his eyes get a little sticky, or if he has dried deposits in the corner of his eyes, clean them gently with damp cotton wool. Do not use anything else unless instructed to do so by your vet.
Grooming for Labradoodle – Anal Hygiene
Anal glands are located on each side of your dog's anus (butt), they give off a scent when your dog has a bowel movement. If you notice that your labradoodle is excessively licking or dragging his hind side, then it's a sign that his anal glands are full and need to be squeezed. Ask your groomer to empty the anal glands every time you take your doodle for grooming. If not done then the blockages can lead to infection. Larger Labradoodles usually can express their own anal glands and do not need to have this done. This does not hurt your labradoodle but be sure to tell your groomer if your labradoodle has had a problem with his anal glands in the past or if you have had your Labradoodles anal glands removed.
Grooming for Labradoodle – Brushing a Labradoodle
Scruffy Doodles will need a good brushing once a week, whereas Doodles with fleece or wool coats will require an intensive grooming regime to avoid having to be clipped short.
How to Brush Your Labradoodle
Several brushing and combing sessions a week will keep the average Doodles neat and tidy. Daily brushing is even better if possible. Brush all the way down to your doodle's skin, let the massaging action stimulate the blood circulation, and loosen and remove the dandruff flakes. Then go through the coat with a comb to make sure you have no mats or knots anywhere.
Choosing the Right Brush
Choosing the right brush is very important. Your doodle's coat texture and length will determine which brush you should purchase.
Scruffy Doodles need pin brushes, which have long, round-ended stainless-steel or chrome-plated pins and a steel comb. Short and medium-coated Doodles will need bristle brushes and a comb.
For the fleece and wool coated Doodles, you will need a slicker brush for removing mats and dead hair. Also, a steel pinned comb to make sure that there are no tangles left. There are also rubber curry combs to polish smooth coats and remove dead hair.
When brushing, always check for burrs and other stubborn plant material, mats – which most frequently form behind the ears and under the legs – and any cuts or scrapes on the skin itself. Doodles shed, and some shed more than others. Regular brushing will help to keep the shedding under control.
Grooming Kits for Labradoodles
If you do decide to groom your Doodle yourself, this is a list of some of the things you may need:
Pin Brushes or a Bristle Brush
Slicker Brushes
Rubber Curry Comb
Metal Comb with fine and medium teeth
Good Quality Scissors
Dog Shampoo and Conditioner/Cream Rinse
Ear Cleaner and Powder
Cotton Wipes
Nail Clippers
Either Electric Clippers or a Stripping Knife
A Grooming Table or Rubber Mat
Possibly a Hair Dryer
If your Doodle visits the grooming salon every three or four months, then you should only need a brush, a comb, cotton wipes, shampoo and conditioner, a dog toothbrush and toothpaste.
Grooming Your Doodle At Home: Pin Brush Tutorial
Grooming Your Doodle At Home: Slicker Brush Tutorial
Grooming Your Doodle At Home: Steel Comb Tutorial
How To Get Mats Out Of Your Doodle Dog's Coat