Are you thinking about getting or adopting a Bernedoodle Puppy? Or just curious about Bernedoodles? You have come to the right place. In this article, we will talk about Bernedoodle facts and everything that you need to know about them.
Bernedoodles, also known as Bernese Mountain Poos or Bernesepoos, are adorable teddy bears like crossbreeds that are growing in popularity every year. The Bernedoodle is a cross between the famous Bernese Mountain Dog and a Poodle. They might not be as renowned as their cousins Goldendoodles or Labradoodles yet, but the Bernedoodles are becoming popular worldwide.
The Bernedoodle is a perfect companion dog with a sweet, loving nature. They blend the clever goofiness of their poodle parents with the placid loyalty of the Bernese mountain dogs. The Bernedoodles are low- to non-shedding hypoallergenic dogs, so they are a safe bet for most people with allergies.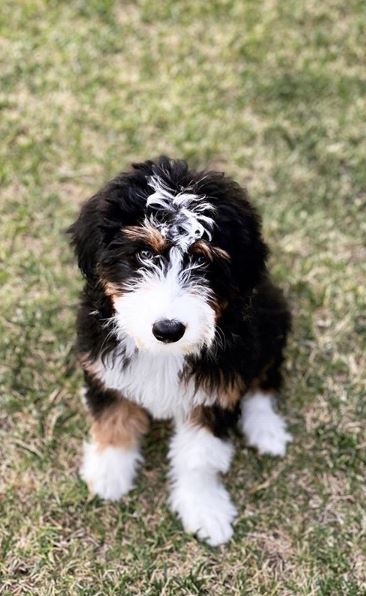 Origin
The Bernedoodle is a relatively new hybrid dog. There could be a few casual crosses of The Bernese Mountain dogs and Poodles, but Sherry Rupke from Swissridge Kennel started to breed the Bernedoodle in 2003 intentionally. Before Bernedoodles, Rupke's was professionally breeding Bernese mountain dogs and developing her Goldendoodle lines. Bernese mountain dogs have a very short life span and many health issues. Rupke wanted to produce a perfect family dog that is lovable, fun, stable, and healthy. So, she started experimenting with the Bernese mountain dogs with Poodles (suggested by one of her clients), and the result was healthy adorable Bernedoodle puppies.
What Do Bernedoodles Look Like?
The Bernedoodles are attractive dogs. In some cases, they are traffic stoppers. Like any crossbreeds, two Bernedoodles never look the same, but all of them consistently blend their parents' traits if the parents were chosen carefully.
The markings of the Bernese Mountain dogs and the wavy, curly coat types of the poodles, give them the live, shaggy "teddy-bear look."
They tend to be pure black, black-and-white, black-and-brown, or tri-color (black, white, and brown), but there can be other colors. Depending on the color pattern, the bi-colors can be quite striking, and the tri-color Bernedoodles are drop-dead gorgeous.
Generations
F1 – is a first-generation cross where a pup is a 50/50 mix of a Bernese Mountain Dog and a Poodle (any size). The crossbreed of this generation is considered the healthiest, as the parents have the least likelihood of contributing genes for common inheritable diseases.
F1b – is a backcross in which a Bernedoodle is bred with a poodle. The puppy is 25% Bernese, and 75% Poodle. This generation produces the most non-shedding and allergy-friendly dogs.
F2 – is a second-generation cross, in which an F1 Bernedoodle is crossed with another F1 Bernedoodle. This cross is again 50 percent Bernese and 50 percent Poodle. F2 crosses have more consistency in their lines.
F1 hybrids have the most variation in appearance, although most are a nice mix between the two parents. F2, F3, or F4 Bernedoodles have more consistency in terms of the dogs' appearance.
Personality Traits and Temperament
Bernedoodles are an excellent choice for a family dog. A hybrid dog like Bernedoodle combines the traits and characteristics of its purebred parents. With careful and conscientious breeding, Bernedoodle pups may end up with the best attributes of their parents. They get the sweetness and loyalty of the Bernese mountain dogs and goofy liveliness of the Poodles. Bernedoodles are smart, friendly, affectionate, and playful. They are very gentle around the kids and the elderly. Because of their hardworking nature, they make excellent therapy dogs.
Most Bernedoodles have a moderate activity level. Some inherit an extremely high level of energy from their Poodle parents,. They love to play, run, and great for taking them on a hike. They love to retrieve and swim, just like their Poodle parents. Bernedoodles have little need for personal space. So, when it's time to relax, they also cuddle you on the couch or your lap if you let them. The owners described them as charming, curious, friendly, social, enthusiastic, cuddly, and loving.
Bernedoodles may also inherit the Bernese Mountain dog's sensitivity and stubbornness. This means that it may take a lot of patience to train them, and their training will require a light touch and positive reinforcement.
Mini and Tiny Bernedoodles may have a slightly higher energy level than the standard ones in terms of temperament. They get this from their Poodle parents. However, a breeder who uses calm Poodles, regardless of size, can produce docile Bernedoodles.
Bernedoodle Sizes
There are three different sizes of Bernedoodles – Standard, Mini, and Tiny.
Standards Bernedoodles are big, majestic, and stunning. They have an amazing presence and are imposing enough to serve as protectors. Yet they tend to be soft-hearted lapdogs.
Miniature or Medium Bernedoodles are the most popular, because of their moderate size. They suit just about any situation, and many people think they are easier to handle than a Standard one.
Tiny Bernedoodles are perfect for those who live in small spaces but still want a dog with a "big dog" spirit. Most tiny Bernedoodles don't realize they're pint-sized, and they have tons of confidence.
How Big Do Bernedoodles Get?
The height and weight chart below only capture the averages, but sometimes a Bernedoodle pup will fall outside the expected height and weight. With hybrids dogs, it is pretty hard to assume the size of the dogs even for the breeders.
| | | |
| --- | --- | --- |
| | Weight | Height |
| Standard Bernedoodles | 30kg – 40kg (70 – 90 lbs.) | 58cm – 73cm (23-29 inches) |
| Mini Bernedoodles | 11kg – 22kg (25 – 50 lbs.) | 45cm – 55cm (18-22 inches) |
| Tiny Bernedoodles | 5kg – 12kg (12 – 25 lbs.) | 30cm – 43 cm (12-17 inches) |
According to the experienced breeders, smaller Bernedoodles tend to grow quicker in the early months and then slow down. Standards continue to grow longer and are slower to mature overall, as is typical of all larger dogs.
The sizes of Bernedoodles can vary from one dog to another, even within the same litter. There is a formula that may indicate how much your 22 weeks old pup will weigh in adulthood.
Formula:
Current weight in pounds divided by age (in weeks) multiplied by 52.
For example, take a mini Bernedoodle that is 15 pounds at 22 weeks.
15 divided by 22 = .681 pounds multiplied by 52 = 35.5 lbs
A medium-sized puppy's growth will be slowing at 22 weeks, while large puppies are still growing fast. Also, males are usually larger than females.
Coat Types
There is no guarantee with Bernedoodles' coat types, and it is different for every Bernedoodle. There are two common Bernedoodles coat types. They are both easy to manage and considered hypoallergenic.
Wavy/Curly Coat
The majority of Bernedoodles have a wavy coat that is very close to the Poodle coat. This coat is very dense and great for allergy sufferers because it sheds very little. It is a bit high maintenance if kept long.
Straight Coat
A straight coat is very rare. However, the straighter the coat, the more it sheds, and the dog is less suitable for the allergy sufferers.
Coat Colors
There will always be variation in hybrids dogs, and that is the nature of crossbreeding. But the difference of coat colors is more noticeable with a dog in the mix that is as striking as the Bernese. There are many possible combinations of colors and patterns seen in Bernedoodles' coat. Depending on the parents, the coat colors of Bernedoodles can vary.
Common Patterns:
Traditional Tri Color (Black, White, and Brown)
Phantom Tri Color
Parti Tri Color
Bi Color
Phantom Bi Color
Sable Parti
Merle
Common Colors:
White
Black
Fawn
Cream
Brown
Grey
Apricot
How Long Do Bernedoodles Live?
Bernedoodle is still a new breed. So, there is not enough information to confirm the lifespan of Bernedoodles. While there is no way to say how long a Bernedoodle may live, most breeders predict that the life expectancy of a Standard Bernedoodles is between 12-15 years. The smaller Bernedoodle may have a longer life expectancy of up to 17 or 18 years.
Living conditions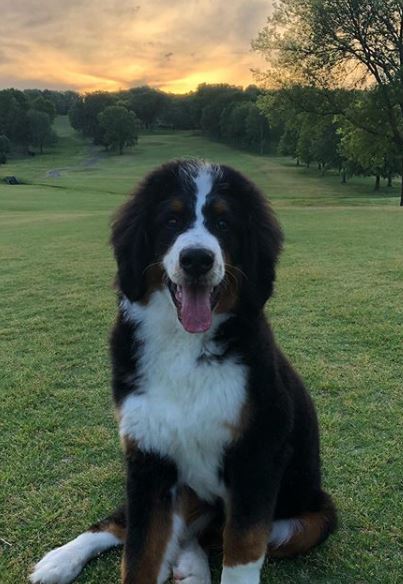 Bernedoodles can easily adapt to various living conditions, whether in apartments in the city or open spaces like farms. Their hybrid coats do not get too hot in the summer, unlike the Bernese Mountain dogs. They can also live happily in the colder climates.
Standard Bernedoodles do better with a yard to run around. Your Bernedoodle will need some exercise every day. If you live in an apartment or don't have a backyard, make sure you take him out for a walk or run at least once a day. Bernedoodles don't require much personal space, and as long as their moderate needs for physical and mental stimulation are met, they are pretty happy dogs.
Grooming
One of the Bernedoodles' most significant assets is that they do not shed, or sheds very minimally. Most of the time, you will be pleased to see that there are no fur balls drifting across your dark hardwood floors, and you can throw away your lint brush. But, you will still need to spend some time maintaining your Bernedoodle's coat.
The amount of grooming required varies from dog to dog, but generally speaking, the more "poodle in the doodle," the more work it will be to keep mats at bay. Curly coats mat is easier to maintain, but all Bernedoodles will need regular coat care. Some will do fine with a thorough brushing once a week, but most will benefit from more frequent attention. Mats are no fun for either you or the dog, and you will end up needing a very short cut if you don't stay on top of this. A shorter clip will require far less maintenance.
So, it would help if you started brushing your puppy as soon as it arrives. Your puppy will be small, easy to handle, and more or less accepting of this new experience. Most of them may not like it at the beginning. Use a puppy brush with soft bristles. Start with a few strokes every day, and reward with treats as necessary to show the pup that brushing is a good thing.Brushing your dog is one of the simplest and most effective methods for bonding with him or her.
Every breed has a standard guideline for grooming. Most Bernedoodle breeders and owners choose a standard cut for their Bernedoodles.
Feeding
Bernedoodle Puppies grow rapidly in their first year and need to be fed a good quality puppy food. These days, there are as many brands and types of food as breeds of dogs, and everyone has an opinion.
Dog's coat quality, level of energy, and general health stem from the quality of its food. Right food can keep your Bernedoodles coat thick and shiny. It also keeps your Doodle healthy and shiny.
When your pup gets home, feed them the following amounts three times per day:
If you can't get Royal Canin in your area, then try a different brand. Bernedoodles comes in different sizes – standard, mini, and tiny. It would be best if you fed your puppy dog formula according to their size and age instead of an all-stages food. Puppies need to be fed puppy food, specifically targeted to its eventual size. Keep your tiny and mini pups on puppy food until they are a year old. Standards can stay on puppy food until they are 18 months of age.
Many dog owners prefer cooking food for their dogs or feeding them a raw diet. This can often lead to vitamin deficiency.
Like many dog breeds, Bernedoodles can have food allergies. If your dog has dry, itchy skin, or gets a lot of ear infections, you may want to try changing its food and consult your Vet.
Exercise
Your dog will thrive with the right amount and quality of exercise. Mature dogs need daily exercise to keep them happy and healthy. If they don't have that outlet, they will find ways to use the energy that you will not appreciate—such as chewing or barking. Remember that a bored dog is a bad dog.
That said, it's important to scale up the exercise as a puppy matures. When your Bernedoodle first comes home, he will need several short bouts of exercise each day. The best way to do this is by taking the pup for three or four 5-15 minute walks, and playing. Chasing a ball in the yard will burn off a lot of puppy energy. If you cannot provide this exercise at intervals throughout the day, you may consider hiring a walker to take the dog out and play with it.
A tired dog is a good dog, but an overtired dog can be at risk of injury. As toddlers, they often don't know when to stop, so you will need to moderate them.
Walking is considered to be "forced exercise," and the repetition can take a toll on a pup's growing skeleton. For this reason, some experts recommend a five-minute rule. A pup can walk five minutes on a leash for each month of age on one outing. That means a three-month-old puppy would walk on a leash for 15 minutes, and at six months, for half an hour.
Depending on the dog's size, its skeleton may not be fully mature, and the growth plates fuse until it is over 18 months of age. Before the growth plates close, excessive, or the wrong kind of exercise can cause stress to the skeleton, and ultimately result in permanent damage, including elbow and hip dysplasia and joint problems.
Exercise guidelines for Bernedoodle puppies
Keep walks to three or four per day, of no more than 15 minutes each.
Walk and play on grass, where possible.
Limit climbing and jumping—carry your pup up and down the stairs.
Wait until your dog is physically mature before taking on vigorous activities such as jogging or agility classes. For miniature Bernedoodles, that means about a year, and for standards, 18 months to two years.
Probably the single best energy-draining exercise for Bernedoodles is fetching. It allows for bursts of energy that will tire your dog out in a way leash walks can't, without harming their joints. It also allows you to practice basic commands with your dog. Fifteen minutes of fetch, along with a couple of leash walks, should see your dog through to a healthy old age.
Most puppies love to roughhouse with other dogs, and it's a great outlet if they have a well-matched, fully vaccinated companion. But all dog-on-dog play must be supervised, as it can quickly get out of hand. Puppies can be injured or scared and develop inappropriate behaviors. If you see that your dog is getting stressed, picked on, or picking on other dogs, remove him from the situation immediately. A bully can affect a dog's personality and behavior. Try to keep every experience with your puppy a positive one.
Bernedoodles Health Issues
As a dog breed, Bernedoodle is still very young. We still don't know a lot about their longevity and health concerns. Over a decade, only one owner has reported a genetic health concern, which was not life-threatening. It appears that the hybrid dogs are much healthier than their purebred parents when bred correctly. It is because the two breeds are generally prone to different genetic problems. Hybrid dogs such as the Bernedoodles are only likely to inherit a health problem that is common to both their parents. Luckily, Bernese Mountain dogs and Poodles share only a few common diseases.
Because of this "hybrid vigor," Bernedoodles are expected to live healthier, longer lives than their purebred parents.
Even if Bernedoodles tend to be healthier than their parent breeds, they can be prone to conditions such as hip and elbow dysplasia, certain eye problems, skin, and bone issues. Like any other dog breed, they can get cancer as well.
Training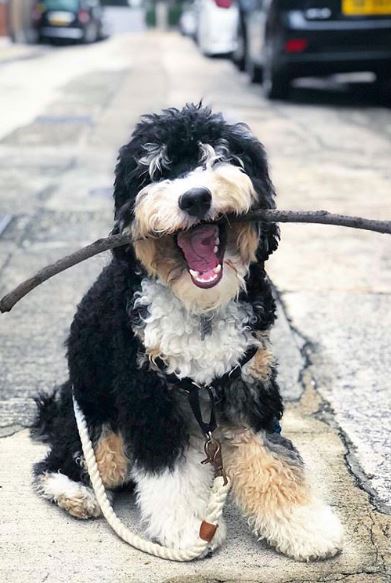 Bernedoodles are quite intelligent as their Poodle parents. So, they can learn bad habits just as easily as good ones. That is why it is essential to keep up with training from the early stage.
Bernedoodles are very smart and playful dogs with a stubborn streak. But they are a joy to train. With Bernedoodles, the same training principles apply as to any other dog, but you will need a bit more patience and plenty of positive reinforcement. The best way to approach training with a Bernedoodle is to make it fun and get the entire family involved.
With the Bernedoodles, the training will depend on which traits they've taken from their parents. If bred correctly, they inherit intelligence, eagerness to please, and calm demeanor from their parents. But you cannot expect that every single dog of this hybrid breed will have an ideal or same temperament. The best approach also depends on the particular Bernedoodle's personality. You will need to study your dog and decide what works for him or her.
How Much Do Bernedoodles Cost?
Depending on the breeders a Bernedoodle can cost anywhere from the range of $1200 – $4500. Many breeders priced them based on their coat colors and the sizes. Here is a guide line for the cost of Bernedoodle puppies.
Color
$800 — Black
$1100-$2500 — Bi-Color
$2100-$2500 — Red/White
$2000-$3100 — Tri-color
Size
$400 — Standard/Medium Bernedoodle
$800 — Mini Bernedoodle
$1500 — Toy Bernedoodle
Is Bernedoodle Right for You?
As I mentioned earlier, Bernedoodle is a great companion dog and suitable for most people. But it is important to note that it is a very social dog that thrives on plenty of human interaction and seeks attention. While this hybrid is usually ideal for someone with allergies, it's low- to non-shedding coat does mean more time, effort, and money spent on grooming.
If your Bernedoodle inherits the higher energy of the Poodle or the stubbornness of the Bernese or both, it will need more of your attention in the form of exercise and training, especially in its early years.
Because Bernedoodles are smart, they will challenge you, and a "lazy" owner may become frustrated by their antics. If you have the time and enthusiasm, then a Bernedoodle can become the best friend you ever had.